Here's what it might look like a minivan Ferrari, Bentley and Maybach
7 campers made out of premium cars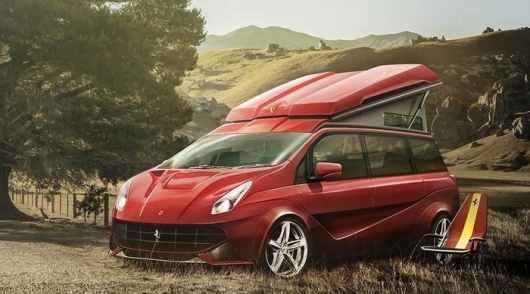 Did it ever occur to you how would look like minivan, if it did one of the premium brands? No? Well then, can you imagine how would look a more civilized means of transportation and recreation – camper – say, a Bentley or Ferrari? Too, no? I think we have gone mad or played you? Actually no! Such cars exist, but only in a virtual form. However, their example clearly shows why luxury automakers don't make wagons.
Seven crazy rendering photos which made one extravagant artist will certainly surprise you. Someone will admire them, who then mentally scold the worker brush for unnecessary arrogance, but we only say that some companies should think about expanding their line in that direction. For example, a Ferrari or a Cadillac. Although BMW-camper looks great, too.
But really, if VW can do "California", why others are not able to do something like that? And the cars were very exclusive, you can add a pair of branded accessories with logo. Could be very good.
Take a look:
Alfa Romeo
Maybach
Cadillac
Tesla
Rolls-Royce
BMW
Ferrari