Here's proof that all-wheel drive is useless in the snow compared to winter tires
Why all-wheel drive in the winter doesn't help.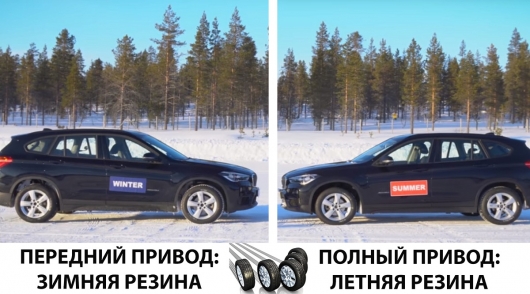 What do you mean all wheel drive? Do you think solves all the problems on the slippery road? For example, in the winter time. Unfortunately, many motorists are often given on a four-wheel drive cars with too much hope, which is a mistake. Don't forget the four-wheel drive vehicles can't cancel the laws of the universe, and to violate physics. Especially on snow and ice. Here's the proof.
If you are a huge fan of AWD cars and think they are summer tires not bad to cope with winter conditions, I hasten to disappoint you. Alas, if your car is fitted with summer tyres, even if equipped with all-wheel drive, hardly driving in the winter will give you pleasure.
Yes, Yes, some motorists are the owners of four wheel drive vehicles (especially SUVs 4×4) who believe their iron horses unicorn, which winter tires are not needed. But in fact, all-wheel drive car with summer tires in winter is like running in sneakers on the ice rink.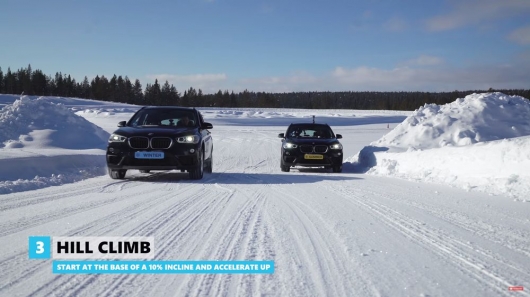 Especially for those motorists who think that torque can change the laws of physics, channel Tire Reviews released movie with interesting tests of the two cars: one of which has front wheel drive and includes winter tires and the other has four-wheel drive to all four wheels with summer tires.
So, the authors of the movie decided to show the car owners, the difference between winter and summer tires on winter road.
For testing took two crossover BMW X1, which was brought on the test track of the Goodyear, located in the North of Finland. Front-wheel drive X1 is equipped with winter tires Goodyear UltraGrip Performance. X1 all-wheel drive equipped with excellent summer tyres Eagle F1 Asymmetric 3.
The team first checked the speed of the braking of the two cars, noting that four-wheel drive car with summer tyres not very good stops in the snow. Then the cars were tested traction on snow and ice.
In the test, it became clear that if your four-wheel drive car trying to get the summer tires on any hill, forget about it. As you can see in the video all four wheels on the slippery road just aimlessly spin, which is not true of front-wheel-drive version of the X1 with winter tires, which are excellent for climbing crossover on the hill.
Yes, of course, as you can see in the video Goodyear test track covered with snow and ice. In real conditions as a rule the roads are partially cleared of snow. But again it all depends on your location and weather conditions. Alas, in our country, snow covered roads are not uncommon in Europe.
But in any case, the behavior of all-wheel drive cars on summer tires in urban environments, in winter, will be slightly different than at the test site in Finland.
But nevertheless this video with a test of two crossovers extra food for thought for those who are charitable all-wheel drive, often forgetting about the quality of the rubber.
For example, in Russia, a lot of owners of SUVs who think that four-wheel drive vehicles don't need winter tires, but ready for hours to prove to everyone around that all-wheel drive will easily allow you to drive on worn tires.
But in fact this approach is guaranteed to enable you, sooner or later, to smash its all-wheel-drive cars.
The moral of the story is that I do not help you full drive in the winter, if your car is equipped with summer tires or do you use bald winter tires.