Got game: Sochi the media are unable to "break fees" to taxi drivers
As the former President decided to provoke the taxi drivers in Sochi on the conflict.
Hot Sochi guys decided as a joke (or don't know what else) to be held in Sochi draw against local taxi drivers. In the end, as expected, princesska jokes led to conflict.
So the background is this troling taxi drivers. Two prankster decided to "break fees" to the local taxi drivers in Sochi, playing a pre-planned scene: one of the culprit approached the cabbie and asked how much a trip to a certain place in Sochi.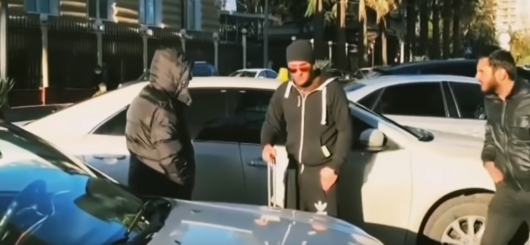 In the end, taxi drivers unsuspectingly traditionally riddled with a considerable price tag (a favorite activity of the local bomb). At this point they approached the second pranker, and portraying another taxi driver, offered to drive of "customer" for pennies, knocking the declared price tag, motivating it with that supposedly he is working on an electric car, and he can afford to carry people is not expensive.

Video channel Kakha and Sergo, YouTube

 

Despite the fact that it was a hoax, which the taxi drivers of course didn't know it was logical to assume that such capture price tags from local taxi drivers to cause a storm of emotions.

Of course, the local bomb not silent, coming into conflict with listexists.

 

When the next survey of local taxi drivers decided to punish the fake fish is, armed with pry bars. The culprit defensively has been forced to use "in trauma" (the traumatic weapon of self-defense).

 

The most interesting, and what guys expect? Yes, local taxi drivers, of course, has not been culturally and legally, holding a tire iron. But "gay guys" it was necessary to think a head, to whom they are going to be trifled with. It's like that joke with the truckers.

 

Yes, in many Russian cities local taxi drivers occupied a sweet site ("bread") and eventually bid up the price tags. This is especially true where highly developed Yandex. taxi or Uber. But Sochi local taxi drivers have long been famous for special billing. But this does not mean that you should just mocks fish, which as you know jokes don't always understand. In General we do not approve of such jokes.