Go Lada, if they pour 5 tons of concrete?
GARAGE 54: 5 tons of concrete in a Lada [Video]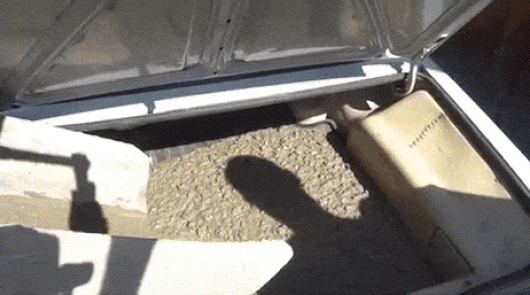 These guys have done and continue to do a variety of autoresolve. Their record can stumble upon dozens of ingenious ways to kill or experiment on cars. One of the few jokes in the record of the various "Garage 54", about which we wrote:
That's what happens if you fill the rubber on the concrete
Installation of wooden pistons VAZ "six"
Bottles of Coca-Cola is used instead of tire: Video
But actually, the imagination of the creators of this entertainment, an auto show knows no bounds, and all possible trials that can befall a car, throws life itself. For example, what happens if the machine to pour concrete? Burst with tires? Collapse suspension? And if not, the machine will be able to move on their own?
Good questions, especially of this "trick" already held in our country, in the city of St. Petersburg, where the young man as revenge flooded his wife's car with concrete. In his words, "the wife decided to change her name to "True" in order to win 50 thousand roubles for the action, which gave the retail network of "Loyal"". My husband didn't like it, and he literally poured the interior of the car wife.
This video has caused a great resonance in the Internet, on forums and on YouTube. Many then wondered what to do with this car? On the dump I take it to? So, some of the problems arising in the course of the experiment responded to an auto show "Garage 54". Pleasant viewing:
P. S. Concrete is very heavy substance. ¾ Filled the interior of the Lada just added an additional 5 tons of load. Therefore, in order for such a car to ride – you need to try.