Ford returns to past experience with the VI generation 2020 Explorer
Here is the new 2020 Ford Explorer sixth generation
New 2020 Ford Explorer will get at least two variations of turbo engines EcoBoost, a system with Autonomous Parking options, the top performance version of the "ST" and the infotainment system, which looks like a big tablet with a vertical orientation, attached to a Central dashboard. Interestingly, the SUV also went back to four-wheel drive versions based on rear-wheel drive layout.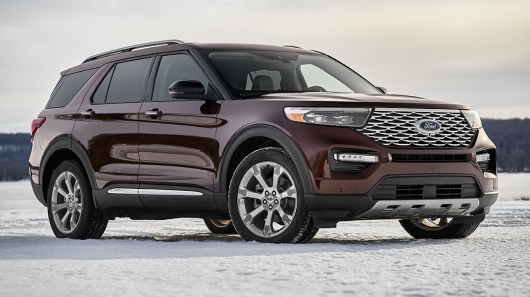 The new Explorer is, of course, got an impressive list of optional driver assistance features, but the most interesting of them are the one in the Ford is called "Active Park Assist 2.0". This new Ford system will help the owner not to take part in the Parking lot of crossover, all of it makes automation and robotic systems.
Those who prefer to keep their hands and feet busy while driving will probably appreciate the better handling. In this improvement, not the last role was played by the updated rear-drive layout of the Explorer (the return to basics is sometimes useful) and an advanced traction control system (Traction Control System), while it is provided only as an option.
Even in its early iterations Explorer has always been a family car and then a SUV. But, it seems, in the sixth generation, Ford has tried to make this car a little more adventurous with the new system "Terrain Management System" that includes settings for driving on different surfaces: "Trail", "Deep snow and sand", "Slippery surface" and "Sport". The system will also include modes "Towing", "ECO" and "Normal" driving.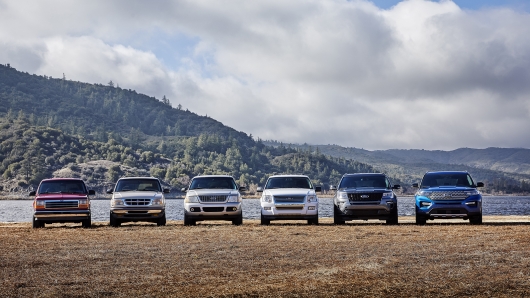 Ford announced the emergence of hybrid models, versions for police, as well as the wide range of different trim levels for "civil" model Explorer.
It was announced two versions of the turbo engine: 3.0-litre V6 that according to forecasts, will produce 365 horsepower and 515 Nm of torque, and is familiar to Americans, the 2.3 liter engine with a claimed power rating 300 HP and 420 Nm of torque. Both options feature a 10-speed automatic transmission and rear-or optional four-wheel drive.
It is assumed that a larger engine can pull up to 2.5 tonnes for a new Explorer, 2.3-liter model is a little less hardy – 2.4 tons.
Salon 2020 Ford Explorer
Inside the 2020 Explorer will continue to have three rows of seats, as claimed by the official carrying capacity will increase from about 2,300 litres with all rear seats folded, up to 2.486 liters of maximum volume.
As for external dimensions, Ford says that the new SUV will get a length 5.050 mm 3.025 mm wheelbase. Thus, we can say that the new product is only slightly longer than the current generation, but its wheelbase is much roomier, in addition to all the above advantages of the model. So, hypothetically, elongated base should improve stability and handling.
As for external data, each person can decide for themselves how new good. We just published pictures of her: