For updates, Lada has raised prices to the popular SUV
Lada 4×4 continues to rise – there is justified the price increase? [Everyone will answer for himself]
Updated Lada 4×4. Photo from the site lada.ru
"Started the production of LADA 4×4 2019 model year cars received a few stylistic changes, which underline the masculine look of the SUV," begins a press release about the release of the updated good-old "Niva", which is the unpleasant combination of circumstances has lost its original title in exchange for nick lean "4×4".
Translated from pretentious language brands similar statement can be interpreted as: "We have added a few things that you will remember only those moments when you Park your "new" "Field" near the "old" model. Nothing serious has changed. Might be a little bit more comfortable, nothing more. Moreover, we have to somehow justify higher price of the car, which has already exceeded 40 years…"*.
*As stated – this is our personal opinion – entitled to it.
What updates has prepared for the fans WHA? Here, the strategy has not changed, everything just as it was earlier in the course of some style changes and a reshuffle in the models:
"Tidy" has changed color and somewhat style: new combination got the black and orange.
"Tidy" in the anniversary version of the SUV
Changed rims. Now on the model of 4×4 Urban will be offered the two-tone wheels "Grizzly" which will blend the black background of the basics of the disc with silver spokes.
Point, trim, thin layer dispersed by such familiar on all other car functions such as electrically adjustable and heated door mirrors. It is now available on the SUV Lada 4×4 in a configuration "Luxe". Previously it was an option solely on the version of Lada 4×4 Urban. "Also in picking Luxe appeared silver alloy wheels updated design" – warn in the release. Well, it is, as they say, good – a variety of colors on any model, even one as hardened as the "field".
The most important and massive upgrade covers a five-door model 4×4 in picking Black Edition (new version for the domestic SUV). The car received a good civilization type of air conditioning, exterior mirrors with electric adjustment and electric heating, which is important – improved vibration isolation. We are talking about additional vibration dampers, which are placed on the dash panel, outer door panels, flooring and sidewalls.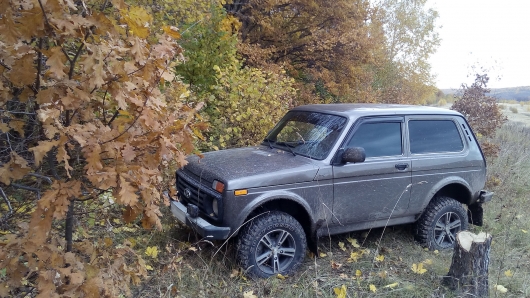 "Black Edition" involves body painting in black enamel Panther and installation of 16-inch light alloy wheels in black. The cost of Assembly will be 598.900 rubles.
Ends with a story about the "updated" Lada 4×4 the following information, which is impossible to argue: "Recall that the LADA 4×4 is available in 5 basic versions: 3-and 5-door, 3-and 5-door Urban, as well as a special variant of terrain – LADA 4×4 Bronto. LADA 4×4 remains one of the most popular SUV in Russia at the end of 7 months 2018 model takes the 5th place in the SUV segment".
Now about the unpleasant. The growth of prices on model range of SUVs, which, relying on insider information said a number of media, among which were "statements" and "Behind the wheel".
As reported by "Vedomosti" with reference to the top management several dealers AVTOVAZ, September 5, VAZ raises retail on their SUVs. Depending on the versions and configurations, the model will rise from 4,000 to 22.200 rubles.
Thus, the recommended value 3-door version is from 503.900 to 559.900 rubles.
The five-door Lada 4×4 in the base price increased by 0.8% to 542.900 rubles. The maximum configuration will cost 598.900 rubles, an increase of 3.9%.
Urban series 3-door performance has risen on 1,45%, that is to 566.900 rubles. A five-door Urban was estimated at 605.900 rubles.
PS actually, if you put aside the sarcasm, the legendary off-roader Lada has a buyer and he is really massive. Despite the gradual rise in prices (inflation and rising costs has not been canceled), people want to buy, still inexpensive and affordable car. And even when the second generation "4×4", and it will happen sooner or later, I'm sure, avaricious man's tears roll down the unshaven cheek of hundreds of thousands of people. Go the legend, and with it a whole era AVTOVAZ. One hopes that a new era of SUVs Lada will be worthy of their mighty ancestors.