The first images of the new compact crossover Honda WR-V
Honda WR-V, cheap compact crossover goes on the market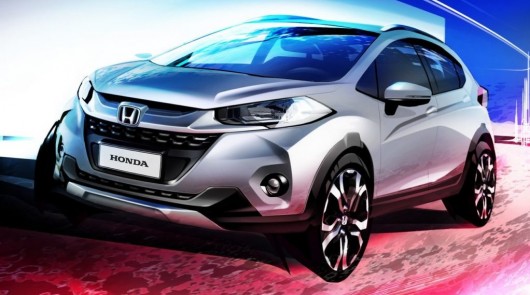 Honda continues to expand its line of cars and she does it with a view to meet the desires of the youth layers of automotive companies, as well as for the fair sex. Otherwise difficult to explain the zeal of the manufacturer to the transition to the compact models of crossovers and small SUVs.
Another crossover in the Honda lineup on the way. His name, according to internal nomenclature Honda – WR-V. the Novelty should appear in 2017. The nearest of the promised debut – November 8, 2016, at a small motor show in Sao Paulo. Place premiere was not chosen randomly, the new product is being developed primarily for the South American market.
WR-V will stand in the line somewhere between HR-V and CR-V, the new subcompact crossover will start production plant in South America that should have a positive impact on the price of a compact SUV.
The basis of the small SUV will be the model Honda Jazz. Honda hides a lot of technical details about the crossover, but most likely but presumably this applies both to its technical stuffing, and the platform itself. On all-wheel-drive configuration probably will be forgotten, the crossover will be available exclusively with front-wheel drive.
WR-V is the acronym. The model name stands for Winsome Runabout Vehicle.
Closest rivals in that case, if the concept will reach series production, will be Ford Ecosport and well-known in our Renault Duster. At least on this count, auto. Most likely it can talk about the specifics of the dimensions, but nothing about the price of a hypothetical new products. Also WR-V will have to face in the competitive struggle for a place under the sun with Fiat Urban Cross, VW Cross Polo and Hyundai i20 Active.