Fastest pickups in the history of the auto industry: Top 10
Top 10 of the fastest pickups in the world
Pickups-old American workaholic. They began to be produced in the United States in ancient times and gradually gained popularity worldwide as an exotic, but extremely honest vehicle transport cargo and move trailers-trailers.
In other matters at least one feature they all have. This is a rare, but special tribe among the pickup trucks, we call them sports trucks. Or just a top version with the most powerful engine in the range engines. The demand is not great, but steady and the unit in flora and fauna of the automotive culture has long established itself as a special representative for details.
Today we want to present you Top 10 fastest pickup trucks, which American manufacturers have released at the moment. So, without further ADO, here are 10 of the fastest pickups in the world, situated in the rating in accordance with acceleration from 0 to 100 km/h.
10. 1978-'79 Dodge L il Red Express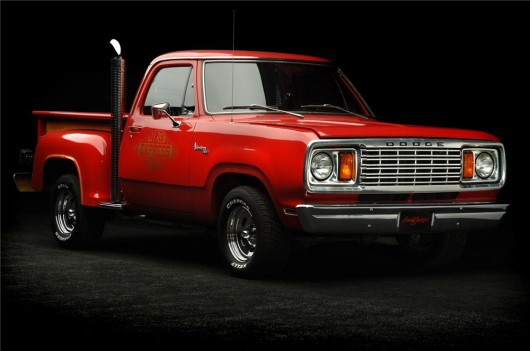 In the late ' 70s, the feds have seriously cut into the opportunities for developers musculary, was not this, I shouldn't do that, etc.
But most of the new strict laws concerned passenger cars, which was the beginning of an interesting experiment Chrysler. This automaker has found a loophole and immediately took advantage of her. To make a sports truck, not a passenger compartment.
Model pickup truck was introduced in 1978 as Mopar"s "Adult Toys" (in 70-e years in America, those names were in the order of things). Li'l Red Express was an athlete and a badass in the flesh – vertical exhaust pipes on the sides, a bright Golden inserts on the sides, oak underlay in the trunk and the 360 V8, which was able to teleport the car from 0 to 100 km/h in less than 7 seconds and to overcome the ¼ mile in 14.7 seconds.
It was a wildly fast car racing at the time, easily bypassing not only musculary, but competing on a straight on a par with such bands like the Porsche 928, 911 and Ferrari 308.
9. Chevrolet Silverado SS
Chevrolet certainly was inspired by NASCAR racing, when the mid-naughties he began to build his Super Sport pickup truck that was a spiritual successor to the 454 SS models come from the previous decades.
This car was really fast and could travel the quarter mile in 14.8 seconds, while reaching 100 km/h in just 6.3 seconds.
Silverado SS is the engine that generates 345 horsepower and 515 Nm of torque. Pretty powerful engine, but not powerful enough to overtake many of its competitors in terms of dynamics.
8. Toyota Tacoma X-Runner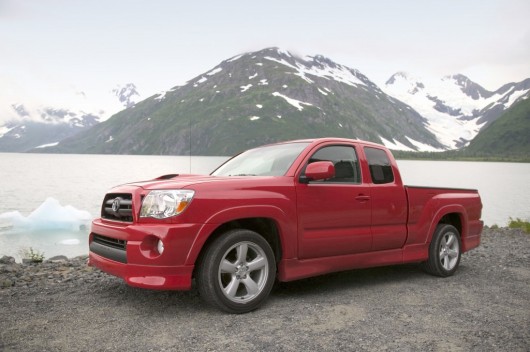 Very popular in the States, pickup Toyota, model Tacoma has a fairly extensive list of different trim levels and options, but in 2004, the fastest of these was the variation of the X-Runner.
The big disadvantage of this model is that this year it is planned the termination of its production. Fans of quick pick-UPS on this line will surely wipe a tear running down their cheek.
But how fast is it? From 0 to 100 km/h X-Runner accelerates for 6 seconds straight. Normal Tacoma for a second or so slower that in other matters also is a very good result.
Good for sprint, a large pickup truck has only 236 HP and a 4.0 V6 under the hood.
7. Ford F-150 Tremor
Ford Tremor… well, and sometimes nazvanitsa up with American salespeople.
Time Raptor 2010 – 2014 years, which made pick-up trucks Ford is synonymous with the word "roads", it is, and Ford never managed to get out of the role of road laborers. So the decision was made to go offensive on several fronts and make a very fast road-going version of brand F-150 pickup truck.
So three years ago there was a Ford F-150 Tremor, which shook the industry of the American SUVs.
From standstill to 100 km per hour in 5.8 seconds and all this is due to the 365-horsepower, 3.5-liter twin-turbo V6 under the hood.
Many will be surprised, this SUV is faster in acceleration than the Raptor, but actually not the last role in this is less weight road F-150, approximately 453 kg (!).
6. 2015 Chevrolet 1500 High Country
Chevy Silverado is proof, as the pickups have advanced over the last few years.
Meet list one of the most beautiful SUVs in its class, which can cope with not only large loads, but fast starts. 5.7 seconds to 100 km/h, an excellent result for such a colossus. And to help in this 420 HP and 623 Nm of torque.
5. 2015 Ford F-150 3.5 EcoBoost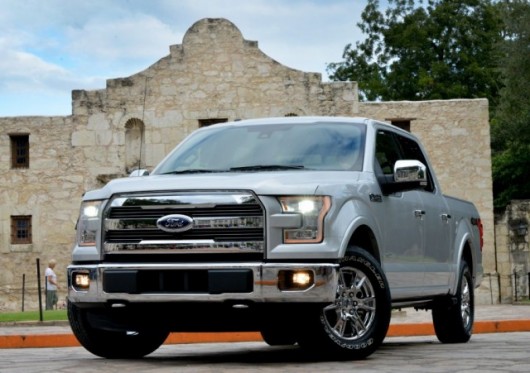 Chevrolet in 2015, perhaps they are trying to circumvent the new F-150 with aluminum body and prove that it is not material thing, but alas it did not work, the Ford was quicker, probably because it is easier, by as much as 317 kg its previous incarnation F-150.
A guy is more than enough 365 horsepower engine, especially if we are talking about a turbo motor EcoBoost V6. High torque, like the more voluminous the V8 allows the Ford to overcome 100 km/h in 5.6 seconds.
4. Ford F-150 SVT Lightning
That's the name that was so popular and Ford had to give him a second chance. When the second generation F-150 SVT Lightning went into the streets, he could do 100 km/h for 5.2 seconds, and top speed came close to 250 km/h. Sixteen years ago, that was enough to earn the title of world's fastest production truck in the world and including the time to lose it. No wonder the name of this Ford appears the word "lightning".
3. GMC Syclone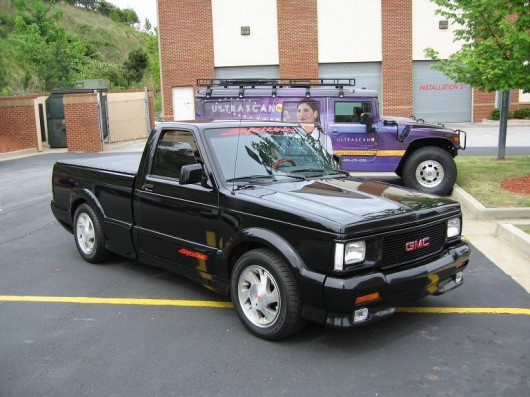 Probably having just one look at this car we can say, we have a legend. And when you learn its characteristics and dynamic capabilities, the already clap his hands like! Different measurements of the dynamics of this eccentric "brick" is a time somewhere between 4.6 and 5.3 seconds.
Please note that these figures showed a pickup in 1991! At the time the dynamics were quite comparable to Ferrari and Lamborghini in their best trim, and he gave a light to those sissies on the track!
Even Jeremy Clarkson was impressed with the Syclone, when he ran it in an episode of Top Gear in the same year 1991.
2. Ram SRT10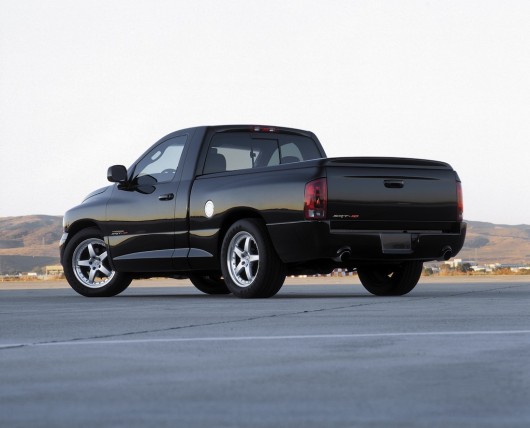 The crown of world's fastest production truck on Earth – a heavy burden and easy to lose. Developers Ford SVT Lightning know this firsthand, when he lost one place in the list of "thanks" to model Ram SRT10, really fast and powerful truck from the USA.
The mad scientists in their laboratories have conducted terrible experiments on SRT, in the end it swapnali on it the engine from a Viper: a 500-horsepower V10, which can also achieve the 711 Nm of torque.
Response to Ford from Dodge was SuperCool, 4.9 seconds proof. A record unbroken for many years.
1. Toyota Tundra TRD Supercharged
There is much debate around the world's fastest pickup. In 2008, well-known foreign magazine MotorTrend declared as such Toyota Tundra TRD Supercharged, which according to the publication was able to accelerate from 0 to 100 km/h in an incredible 4.4 seconds.
But despite the fact that many this time, sprint is still causing issues, in fact no one could deny it. You put a Supercharge on the Tundra the first place among the fastest pickups in the world.
To make it more clear how this Toyota fast, for comparison, the same amount of time for acceleration to 100 km/h in a Ferrari, Aston Martin and other expensive hypercars from around the world. You know how cool it is.
Overclocking is not the last role plays a 5.7 litre V8 engine which develops 504 HP and 745 Nm. Large figures even for the 5.7 liter engine is nine years old. More surprising that it so no one walked in dynamics, even Ford F-150, which won first place in our previous collection: 12 of the fastest pickups of today