In England sell rally car Land Rover with the engine from the BMW M3
Rally car, Land Rover with the engine from the BMW M3
What would happen if in a Land Rover to establish engine from the BMW M3? Never thought about it? Can't even imagine, what could happen? Or think it's impossible? In fact, the answer is simple and concluded in the following video: this Land Rover would make a great rally driftcar!

What you need to do in order to make the same car? You need to purchase a Land Rover Discovery in any year, the older, the better. First, it is not a pity to mash during operation, and secondly, it is cheap. Thirdly, you need to purchase the engine from the BMW M3. These two component are assembled together, removed from the car without the seats, floor mats and other unnecessary parts, the weight of the car. And put behind the wheel of a skilled driver. All! You can go to the rally. By the way, this "hybrid" Discovery traveled M3 in 2016 at rally Somerset held in the UK. Surprisingly, the SUV's racing engine from BMW was able to rise to 37 position in the overall standings of the 84 seats, easily beating unsuited Ford Fiesta, Escorts, and even a few Subaru.

But if you think to make your own such a car too difficult, just buy it! Moreover, the opportunity is there. The car was being auctioned on eBay in the UK. Price at the moment is £7.500 ($9.550) and above is not going to move.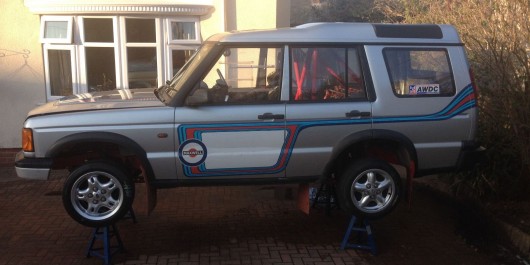 Despite the not very good quality photos coming in the description of this unusual SUV on eBay, a rally Discovery built to the highest racing standards. Under the hood, installed 350 strong European E36 M3 engine, power from which goes to all wheels through a five-speed manual transmission with close-ratio. Also another interesting fact, this Discovery also includes a viscous coupling Porsche 911 C4S, which sends power to the front wheels and limited slip differentials in both axles.
The seller claims that it has facilitated and strengthened the body of the Discovery, and established a safety cage, built with the requirements of the Motorsport Association of great Britain.
The changes do not end there. This Discovery also received an improved suspension with 355 mm (!) and brakes designed for rally and Safari. Outside sports car produce unusual wheels and the sticker on the sides of the car and on the hood. The full list of changes can be found on the eBay page where you exhibited this car racing.
Inside the cabin of a BMW E36 M3 in a Land Rover also moved the instrument panel and steering wheel. It looks weird, but not critical.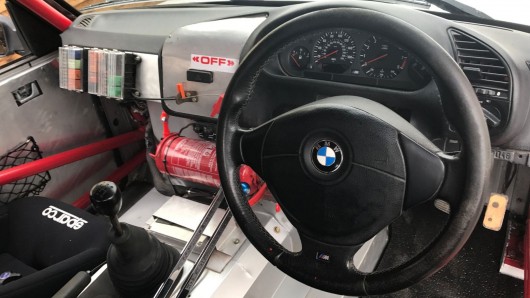 P. S. For some reason in Britain this car has received permission to drive on public roads, so create from Discovery rally car no longer seems such a strange idea, because in practicality it will not lose, if that is possible and the products in the store to go!