Dolph Lundgren starred in ads for Volvo construction equipment
Volvo video "Workout" with Dolph Lundgren..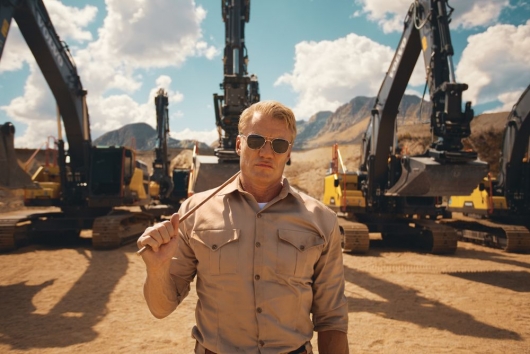 We offer you to look interesting is the company Volvo, which was invited to participate in the filming of the actor Dolph Lundgren.
This viral video, which will certainly become popular in the network, advertises construction equipment Volvo. The star of the movie "the Expendables" starred in the role of Sergeant who trains their "troops", which is a special equipment Volvo.
In the video you will see several rows of Volvo excavators, all sizes, from tiny cute and ending is really a giant machine. Further Lundgren shouts a few words and starts "training" techniques.
In one of the shots you can see the little excavator in the front row, which drew the attention of Dolph Lundgren. This compact excavator Volvo EC27D. Later in the video you will see how Lungren brilliantly parodied many of his heroes of the militants, forcing the technique to train in difficult conditions.
Another important point in a viral video there was a time when the same small excavator Volvo EC27D pulled on a huge metal frame. Now the workers who will work on this small excavator will know what to do with Volvo EC27D at lunchtime…))
Excavator is one of the most versatile machines. Regardless, he moves the ground, pulls heavy loads on uneven ground or even up in the air, this video demonstrates how the modern Volvo excavators universal.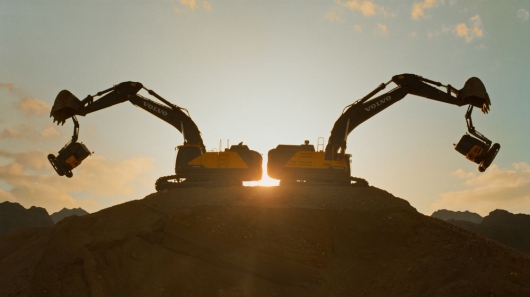 Now, that said bill Lowe, senior Vice President corporate communications Volvo CE on short film:
"This is a good demonstration of the flexibility and power of our excavators, from small to large.
"Our excavators work daily on construction sites around the world that requires this strength and endurance, along with experienced operators at the wheel."
Also in the video right after the scene with the pulling up you can see two large crawler excavator; one of them is a full – sized, heavy Volvo EC750E.
At the end of the video, when the sun drops to the horizon, Lundgren expresses his "army" of his pride in the achievements of the platoon. Next, the actor sits in a dusty old pickup truck SUV and driving away.
Yeah, the video certainly removed professionally and competently. Despite the fact that it's a commercial but it. Not that the Russian is on TV.