Died IRV Gordon, a man drove his Volvo P1800 more than 5 million kilometers
Died the owner held more than 5 million miles on a Volvo 60-ies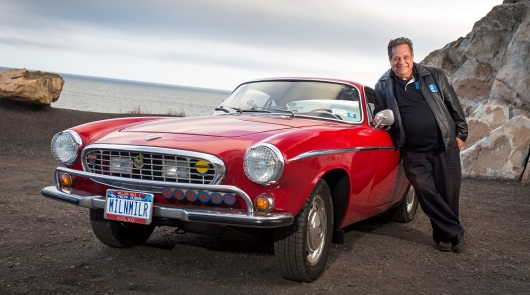 IRV Gordon, the man from long island, which broke the Guinness world record for the largest mileage on the car, passed on his Volvo P1800 in 2013, more than 5 million miles, died at the age of 77 years.
The sad news was announced by his daughter on the social network page dedicated to the car owner and his long adventure at the Volvo P1800.
According to Guinness world records, on 18 September 2013, IRV traveled more than five million kilometers (three million miles) on his Volvo P1800 1966 model year. A significant event to which the owner has sought for half a century occurred near the village of Girdwood in the northernmost U.S. state – Alaska. Previously, the American has also repeatedly been the center of attention, thanks to its rigorous approach to the use of the car in everyday life. He also installed an interim record of 2.7 million kilometers. This started world renown, attracting not only the interest of motorists worldwide, but the Swedish automaker Volvo, which eventually became the sponsor of the pedantic American, for many years had given him new items for the new coupe Bertone 780, C70 and XC60 crossover for his achievements.
According to local media reports, the coupe 60 years has been more than 3.2 million miles in may of 2013. Did the engine Volvo all this time without replacement and overhaul? Of course not! Engine "capitalise" on the mileage of 1.1 million km, and in 2009 it was replaced by a new, four years before the round mileage. IRV always did one simple but important part of machine operation: conducted regular maintenance of the car, by the way, on their own.
Grandpa IRV is gone forever a reminder that buying a car not only implies driving it, but its timely and quality service. If you want to keep your car you happy, and not broke, take care of its technical condition, and equipment to ensure the safety of your nerves.
Read more about the adventures of IRV Gordon read here
Volvo's official statement on the death of one of the most legendary car owners the new time:
"With great sadness, Volvo Car USA learn about yesterday's passing of IRV Gordon.
We were lucky enough to be near countless adventures IRV, perhaps not as monumental, than when he passed the three million miles in his red 1966 P1800 in 2013 in Alaska. A record that no other man could not achieve for more than 100 years of automotive history.
IRV never wanted to break the world record, he just lived his life in your Volvo. And today we honor his legendary life."