The convertible Mercedes E-Class celebrates its 25th birthday
Mercedes W124 Convertible is 25 years old
Hard to imagine, but in the extensive range of Mercedes a quarter of a century ago was not of convertibles, high only double chic Roadster SC-Class. The situation was corrected in 1991. The car released in the distant year became for many years the standard beautiful, powerful and technologically advanced vehicle.
Today, four-seater convertible is celebrating the 25th anniversary of the first original E-Class Cabriolet was shown to the fans of the German brand a quarter century ago.
However, familiar model name E-Class appeared in the everyday life of Mercedes two years later. At the Frankfurt motor show of 1991 made model W124 Cabrio, thereby updating the previous model – survivor 280 SE Cabriolet, a 1971 release.
The 124 series E-Class Cabriolet remained in production until 1997. For this short period of time Mercedes made 33,952 model: 15,380 with four-cylinder engines, 18,572 six "pots" – including rare, quickly became a collector's E36 AMG Cabriolet. Last, there are only 68 cars. Such instances are valuable because Daimler at the time and still not bought a controlling stake and those charged car was almost completely been made by professionals ultralase of the Far.
Replacement Mercedes E-Class Cabriolet was the next iteration of the model – CLK in '97. New name, new look and philosophy. Its production lasted for two generations. To return to the bosom of the family E-Class convertible was in 2009. To date, the E-Class is available in four versions bodies. The convertible version, the progenitors of which were the SE and the W124 Cabriolet has grown, they came from C and S-Class, and also among the SLC and SL roadsters.
Not surprised that the German automaker will eventually come up with a new version without a roof, extending to create the most extensive array of convertibles in the automotive industry.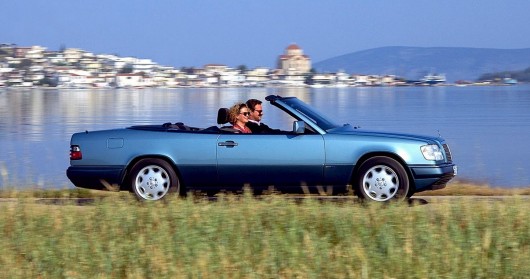 For those who wants to know about Mercedes-Benz W124 more, you can see historical opus from the links below:
Mercedes W 124 – the legend [photo]
The iconic Mercedes W124 turns 30 this year
Happy reading!