Changing the oil in the Bugatti Veyron costs 21 000 dollars: Here's how to save
That's how the employees of a small service station change the oil in the sports car Bugatti Veyron.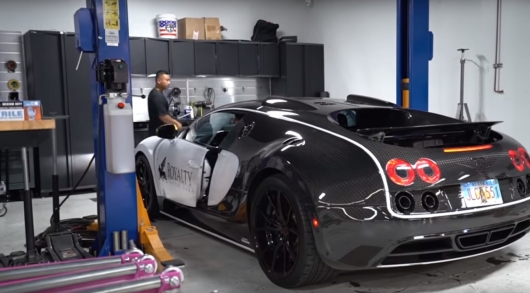 Replacement of engine oil in modern cars, a simple matter. Also, as a rule, the oil change cost is very cheap. But if you want to change the oil in a Bugatti Veyron, then be prepared to part with a huge amount of money. For example, in the USA, authorized dealer replacement of engine oil in the vehicle is 21 000 dollars. But it turns out this car can change the oil and regular employees of service stations, without special training.
Usually, when owners of Bugatti Veyron in the United States are forced to change the engine oil, they usually turn to the dealer, which easily facilitates the wallet of the owner of the sports car by an average 21 000$. It has so much in the average cost of regular replacement of engine oil in the Bugatti Veyron.
But usually the owners of such machines should not be surprising from such amount, since their status is typically evaluated a lot of zeros after one. And after the zeros usually costs a dollar sign or euros.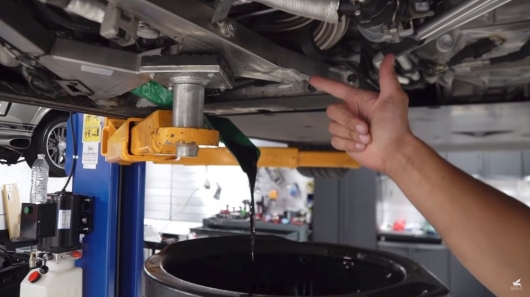 However, used cars will sooner or later fall from the secondary market for less wealthy people who can't afford to throw away 21 000 dollars for a regular oil change in the engine.
In the end, they have to be rolled up on various stations, in the hope that someone will undertake to change the oil in the sports car. Unfortunately, not many would agree on such a venture. Because according to the representative of the company Bugatti to replace the oil in the engine of the supercar W16 Veyron required the special training of mechanics.
But recently, two mechanic from one of the American service station decided to prove that the engine oil in the Bugatti Veyron can be changed without special training. But unlike changing the oil in regular cars, to work with sports car need at least two trucks.
In the end, the locksmith took video of the entire process of replacing the engine oil in the legendary supercar.
The video turned out pretty great because the process of oil replacement is fixed, from the rise of the machine on the lift and ending with the discharge of 15.6 liters of oil. Also during oil changes was replace a few worn parts.
Pay attention to the process of replacing the oil. From the video you will see that the process is complex.
In General it was pretty a kind of manual-a hack for owners of a Bugatti Veyron who do not want to give the dealer 21 000 dollars per change engine oil.