By car or by plane On what is more profitable to travel
To fly or drive?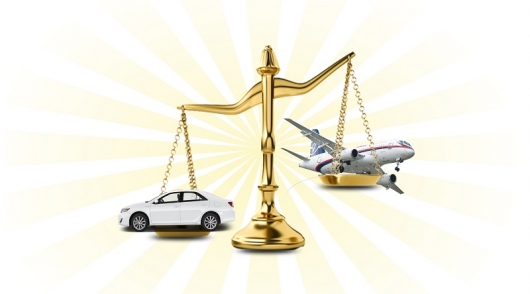 In the midst of the holidays, many Russians face a choice: to go on vacation? What's better to go to another city in your own car or, for example, to buy a plane ticket? Naturally, what form of transport we choose will depend on the cost of travel, journey time and comfort. We have analyzed 5 popular routes to determine when it is better to get to places by car or plane.
Now, let's take five popular routes in Russia and compare their cost with the cost of travel by car. Thus, according to statistics, the most popular routes in recent years are:
Moscow – Saint-Petersburg
Saint Petersburg – Krasnodar
So if you plan to travel on the above routes, we can now see what is more profitable to reach. To help you to solve this problem, we calculated how much it will cost to travel on the above routes by car and aircraft, using a variety of online fuel calculators and online services for the booking of tickets. As an example, for car trips, we used Toyota Camry 2012 with a 2.0-liter gasoline engine with an average real fuel consumption of 10 liters per 100 kilometers (in ECO mode, the gasoline AI-92).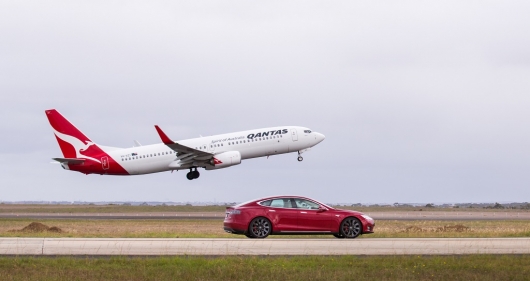 Also when traveling on the plane we took into account the cost of the trip from downtown to the airport and from the airport and no Luggage. We did not take into account? In our calculation we did not take the cost of food while on a trip by car and an emergency stop at the hotel to relax. So imagine that when you drive you will be eating food brought from home and relax in the car. Including please note that our virtual route between the cities we laid the trip on the toll roads.
So there you go.
Moscow – Saint-Petersburg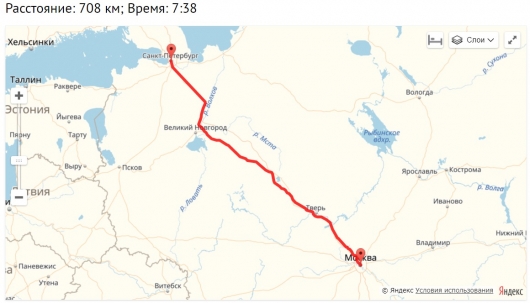 This is the most popular route between the two cities. Recall that the distance between Moscow and Saint Petersburg equals to 708 km
Let's see how much it will cost to drive to St. Petersburg from Moscow when driving on free the Leningrad highway. On average, we will spend a total of approximately 71 liter of gasoline (about 3053 RUB).
All the way takes about 8.5 hours with several stops for refueling and lunch.
Now let's figure out how much we will spend, if you fly into Saint Petersburg on the airplane. So, imagine that the trip to the airport Domodedovo/Vnukovo, and from St. Petersburg airport to the city center by taxi will cost us in 1800 rubles. How much is the cheapest plane ticket from Vnukovo? We found a ticket with date of departure in mid-July of the current year cost 2670 rubles. From Domodedovo, the cost of the flight a little more – 3112 RUB flight Time – 1 hour 35 minutes. Now add to your flight cost 1800 rubles for a taxi. Get a minimum aviapoisk in the Northern capital of Russia will be 4,470 rubles. As you can see, not much more in comparison with a trip by car. But here you save time spent traveling, as well as important and comfort.
The only plus travel to St. Petersburg by car is that during your visit to the Northern capital you have at hand will always be the car on which you will be able to visit any interesting places in Saint Petersburg. But in this case, the expenses can increase the cost of Parking.
So for someone, probably, and would be preferable. But for the most part air route in the Northern capital is still profitable.
In the end is better: plane
Saint Petersburg – Krasnodar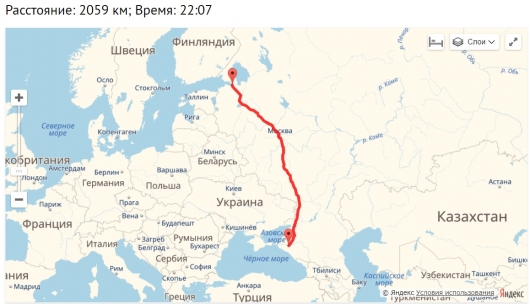 According to an online calculation, the length of the car route between St Petersburg and Krasnodar is 2059 km, Respectively, with fuel consumption 10 l/100 km for the trip from the Northern capital to the capital of the Kuban, we will need at least 8858 RUB (or 208 liters of fuel).
On the road without stopping will take 22 hours. Of course, this does not include the forced stops for gas and to eat, reduced speed cameras, traffic, etc. So feel free to add to this time another 5-7 hours.
Now let's see how much is the cheapest plane ticket from Saint Petersburg to Krasnodar, and a taxi from the center of St. Petersburg to the airport and a taxi from the airport of Krasnodar to the city center. So, in St.-Petersburg by taxi we'll give 800 rubles on a taxi in Krasnodar – 600 RUB.
With regards to the cost of flights from the Northern capital to Moscow, the cheapest ticket will cost you 8000 RUB. However, this flight with a stopover in Moscow. The cost of direct flights to Krasnodar will be at least 9500 RUB. In this case the flight time will be nearly 4 hours. Total for the flights we need a minimum 10900 RUB. As you can see, this is more than the fuel cost in the case of travel by car. But do not forget that the road you're more likely to spend money on water, food and possibly overnight. So a trip from the Northern capital to the South can cost even more expensive than a plane ticket.
In the end is better: plane
Moscow – Sochi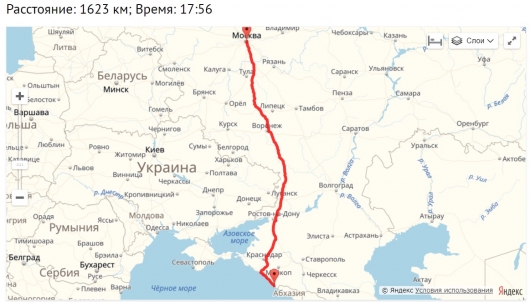 According to the calculation, the length of the route when traveling from Moscow to Sochi road will be 1623 km travel Time without traffic, forced stop, reduce the speed cameras etc. will take approximately 18 hours. In reality, the load for the trip at least a day, as part of the path will pass through mountain passes and narrow band of road where overtaking is prohibited for vehicles. For this trip in a Toyota Camry, which consumes on average 10 liters per 100 km, will require approximately 162 litres of gasoline, which is roughly worth 7000 RUB of Course, to this sum add the expenses on food and hotel.
And how much is today the cheapest plane ticket to the city of the Winter Olympic games?
For example, from Vnukovo in two weeks, the cost of flights to Sochi will be a minimum of 4500 roubles From Domodedovo will be a little more expensive – a minimum of 4800 RUB. If you prefer to fly from Sheremetyevo airport will have to fork out an even greater amount – at least 7400 RUB.
Plus, of course, to get to Moscow airport, you'll pay at least 800 rubles. Don't forget that Sochi airport is in Adler, from where you have to order a taxi in the center of Sochi. In the end, a taxi in Moscow and Sochi you give a minimum of 1,800 rubles. Adding taxi costs and the cost of flights, we get that the minimum expenses for the trip to Sochi from Moscow will cost 6300 RUB (flight from Vnukovo), 5600 (flight from Domodedovo) or 9200 (during the flight from Sheremetyevo).
Compare with the cost of travel by car and you'll be surprised at how in our days it became more profitable to fly long distances by plane. All this, of course, thanks to evaluater that hold minimum prices for air travel.
Of course, if you are going to fly to Sochi with Aeroflot, then get ready to shell out a bigger amount on the ticket.
In the end is better: plane
Moscow – Ekaterinburg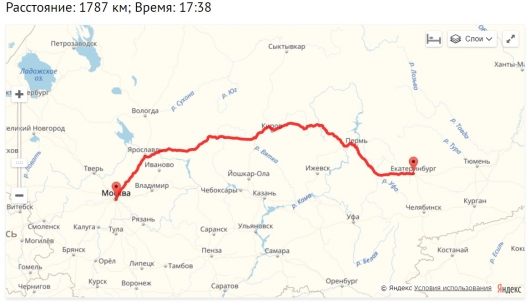 Here is one of the most popular routes. Every day thousands of people travel from Moscow to Ekaterinburg, the distance between which is 1787 km travel Time by car – nearly 18 hours (of course, excluding the forced stops, traffic jams, etc.).
To go from Moscow to Yekaterinburg on a Toyota Camry, need 179 liters of gasoline AI-92, which will cost about 7700 roubles. And not all expenses required for the trip. Add unexpected traffic fines (cameras very much), and spending on recreation and food.
Let us now compare how much money is needed to go to Yekaterinburg by plane from Moscow airport. According to an online service for booking tickets, the cheapest ticket with the expectation that the flight will be in late July 2018, will cost at least 4,000 rubles. We did not at first believe what kind of money you can actually fly to Yekaterinburg.
But a careful consideration of the proposals was convinced that it really is. Plus add spending on a taxi in Moscow and Yekaterinburg (800 + 500 RUB., respectively). Thus we see that for flights to Ekaterinburg, we need a minimum of 5300 RUB it is impressive. This is obviously cheaper than by car. The flight, incidentally, is just 2 hours and 20 minutes. So, as you can see, the plane will save you not only money but also time. Also your trip will be more comfortable. Of course, if you are a fan of long trips across the country.
In the end is better: plane
Moscow – Simferopol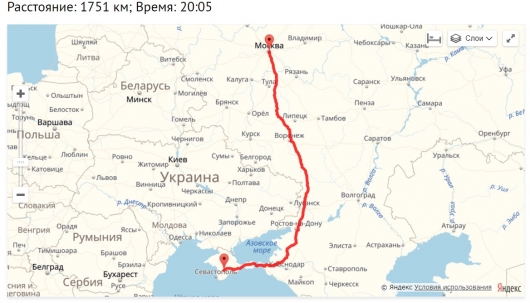 Finally, one of the most popular in our time travelling both by car and by plane and of course the train. We are talking about another southern route. This time let's count on what is more profitable to go from Moscow to Simferopol. According to an online calculation of the distance between Moscow and Simferopol is 1751 km, and travel Time without stops – 20 hours. That is the way you will take at least 23-24 hours.
Fuel cook not less than 7,500 rubles (175 liters of petrol AI-92). Plus food, fines and possible hotel to stay and pay Parking.
Now let's see how much is the cheapest plane ticket from Moscow to Simferopol. According to the online service of booking tickets, the cheapest ticket on the plane from Moscow to the Crimea is 7000 rubles (departure – end of July 2018). Naturally, such a high price tag compared to other routes associated with the summer season. Journey time – 2 hours 35 minutes. Plus the cost of a taxi.
As a result, the flights we need a minimum of £ 8500. Agree, it is better to give the money than to torture yourself in the end. Okay if you really are going to the Crimea to visit many places by car. Then, maybe the drive is justified. But if you are like many, intend to put the car on Parking and to spend your whole vacation on his own two feet, then the flights more profitable.
In the end is better: plane
In some cases, cheaper to go by car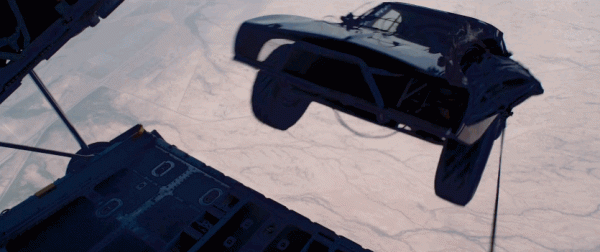 Of course, all our calculations are approximate. In particular, we calculated the benefit for only one traveler. Of course, if you go by car in the aforementioned cities are not alone, it would be advantageous by car, because your spending on fuel practically do not increase while each additional traveler you are forced to spend the money on the tickets. That's why the majority of Russians prefer to travel by car and not by plane. Because many motorists each year going on vacation with your family, friends or colleagues.
Yes, traveling by plane saves time. And for many of us time is money. But, unfortunately, the flight is only profitable for a single traveller. If you want to go together, then the drive will be more favorable than the flights together on the plane.
Additionally, when traveling by plane you should not forget about the Luggage. We calculated the costs without Luggage. Unfortunately, as a rule, when cheap tickets the cost of Luggage you may unpleasantly surprise. So, despite the clear advantage of air travel, for many Russians is still more preferable to travel by car.
There are of course other types of transport where you can go to the above cities (e.g. train or bus), but that's a topic for another article.