BMW X2 could not get the highest award of safety IIHS
BMW X2 should work on security (summed headrests)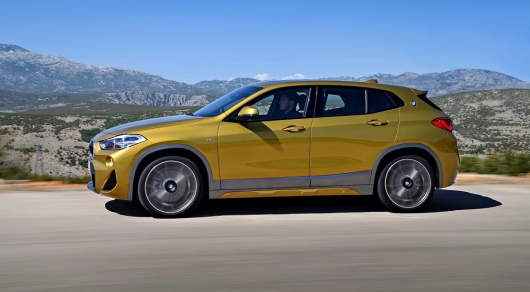 BMW X2 was recently tested by the Insurance Institute for Highway Safety (IIHS). The Bavarian showed an unexpected result, not having received not only the highest award of the Institute involved in the study of the safety car, but even not being able to recruit the necessary number of points required for a second important award, which today receive very many cars even more modest class – Top Safety Pick. This surprisingly low result for a compact model so serious automaker.
Thus, it should be noted that all of the power of the test, the model X2 was excellent. The rating of "Good" was obtained in frontal crash test moderate overlap, during side impact, testing the strength characteristics of the roof of the BMW X2 also received an excellent rating. And even collision with a small overlap in the front part of the car did not become an obstacle, as the driver side and passenger side.
If all test passed on the "five points", then what was the stumbling block? Maybe it's in the main headlights, which got "acceptable" rating? Recall that in 2016 the IIHS began testing head-lighting devices Testing of the headlights (IIHS)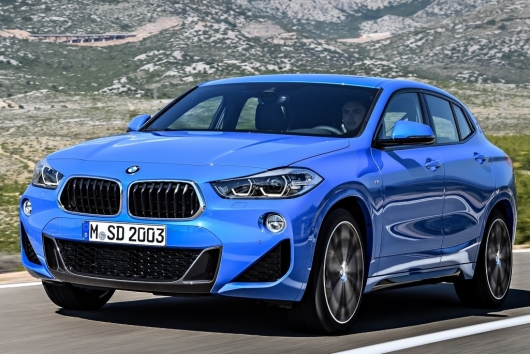 Results in the majority of cases were so frighteningly low that as a result it was decided not to reduce serious points for lack of quality lighting, at least not yet. Therefore, the Quartet for the lighting, too, could not stop the X2 from getting at least the second largest awards IIHS.
So what eventually turned out to be the real obstacle? Really unexpected and very real problem has been found in the seats, but rather in the headrests. Experts IIHS explained rare disease in the modern car as follows: "the Lack of a good rating for head restraint unusual. X2 was one of four cars in 2018 with an acceptable rating, 1818 other tested models receive a good rating".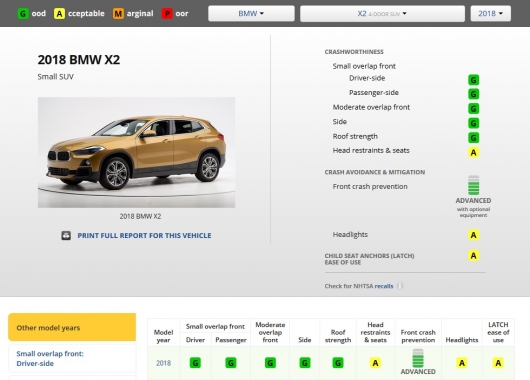 Wow!
BMW, however, responded immediately to the test result. Institute IIHS has been notified by the Bavarians on the so-called "planned improvements". In the result, X2 will be tested again in September of this year.
To qualify for the highest award in the field of safety, the vehicle must receive "good" rating in all five tests for safety in a collision, including the quality of protection by means of seats and head restraints that protect against whiplash neck injury in the event of hitting the car behind. In addition, the modern passenger vehicle is in need of high-quality electronic technologies to prevent accidents with estimates of "Acceptable" and "Excellent" and light devices, for which the assessment should be at least "Acceptable".
For the upper zone safety Top Safety Pick+, a vehicle must receive a rating of the headlights perfectly.