BMW introduces the new X3 M and X4 M
Presents prototypes of the new models BMW X3 M and X4 M.
BMW last weekend used the DTM race at the Nurburgring, in order to present to the world public the new model of crossover X3 M and X4 M. the Truth machine was introduced in the form of prototypes of future production models.
The presented prototypes are equipped with a sportier front bumper with three large air intakes with inserts in honeycomb mesh. Including cars have aerodynamic mirrors and light-alloy wheels and high-performance brake system with blue calipers.
The rear portion of the crossovers have also been upgraded: a new bumper, sports exhaust system (four pipes). Also rear both cars had a unique rear spoiler.
Unfortunately, BMW has refused so far to disclose the technical characteristics of power units of cars, saying only that the crossovers will be powered by a new six-cylinder engine with M TwinPower Turbo technology.
Most likely we are talking about a new 3.0-liter BMW engine power 460 HP
In addition to the new engine, the crossover will have all-wheel drive system xDrive M, which is also used to model M5. According to the representative of BMW, this system guarantees maximum thrust and minimum loss of torque on the road, making the new M-crossovers can achieve an incredible dynamic performance.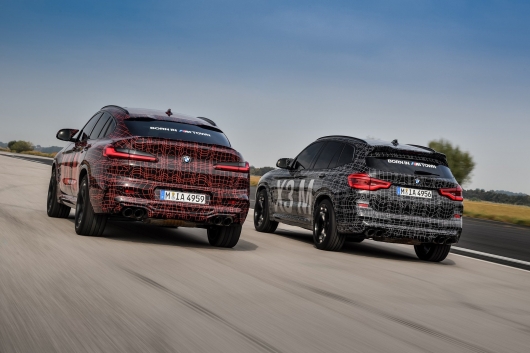 Including new crossovers will get an active rear M differential, and sportier suspension compared to the normal versions.
As promised by the developers of the new X3 M and X4 M will have an unmatched level of flexibility, precision, and cornering dynamics. But that said, the new crossovers, the President of BMW M Frank Frank Chalk
"Thanks to the specific characteristics of the M-series, BMW X3 M and BMW X4 M will show the same technical characteristics and abilities, which are now showing all stock cars M-modification."
The company refused to disclose the launch date of the production models.