Best V12 engines on the Ground [In sound]
The sound of the V12 which we will never forget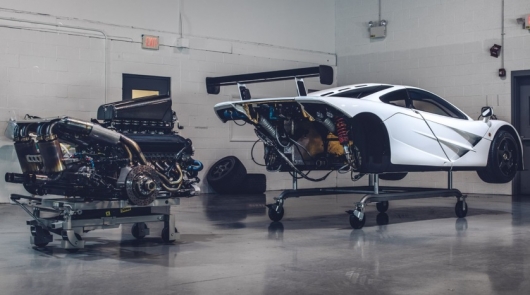 Nothing beats a good, rich sound of the V12 engine. These machines prove the axiom.
Other engines can come close to this music, but the V12 will always be a step ahead, a step above in everything, but especially when it comes to sound. Here are the most vociferous V12 on Earth, in your humble opinion.
Pagani Zonda
The Zonda was the first production car Pagani, and although since the release of the original model it was some years, his sound still makes an indelible impression on car enthusiasts worldwide. Track version Revolucion presented here uses a 6.0-litre V12 derived from Mercedes-AMG for its intended purpose – to win and surprise!
Ferrari 412 T2
When it comes to racing the iconic "melodies", Ferrari 1990-ies V12 F1 model 412 T2, always deserves a mention. The roar from its 3.0-litre V12 can be heard for several kilometers. You can't go wrong, who goes.
Aston Martin Vulcan
Aston Martin built only 24 units of their track supercar Vulcan. Under the massive hood lurks immodest 7,0-liter engine capacity of not less than 800 horsepower.
McLaren F1
Part of that perhaps is the greatest production car of all time, has great sound. McLaren F1 thanks to a 627-horsepower 6.1-litre BMW engine ascended to the rank of legendary.
Ferrari 275 GTB / 4
It's hard not to pay attention to the classic Ferrari. He was out of time and out of competition. This 275-I model is a perfect example of how to sound of the classic V12.
Lamborghini Murcielago
Lamborghini has created a lot of really great-sounding V12 over the years, but it's better than the motor you will not find Murcielago. High-frequency "squeal" is unmatched, even today the Aventador is not in the business.
Jaguar XJR-9
XJR-9 end of 1980-ies raced in IMSA and Group C, including the 24 hours of Le Mans (which he won in 1988). Under his aeroobika is a powerful 7,0-litre V12.
Aston Martin Vanquish
Now Vanquish sounds pretty cool, but this old version of the beginning of 2000-ies, making sure our ears perked up. It looks great and has under the hood a 6.0-litre V12, with a capacity of 460 horsepower.
BMW 850CSi
BMW GT class of 1990-ies received the top version under the curtain of her life, she got called 850CSi.
Despite its sophisticated appearance, its V12 produces an amazing "roaring" noise.
Matra MS670
MS670 was an endurance racer in the mid 1970-ies. Its 3.0-liter engine with the collapse of the 60-degree 12 cylinders did an excellent job and get rich your racing teams, including victories.
Perhaps you don't share our opinion, but the sound is just great.
Ferrari 812 Superfast
Ferrari was one of the few manufacturers boosted V12. 6.5-liter unit in 812 Superfast is the latest version of the company. It's a masterpiece! And to the point.
Lamborghini Miura
Have a Murcielago is probably the most outrageous daring sound among Lamborghini, the Miura is the most beautiful.
This super-rare variant SVJ sounds particularly exotic.