Beautiful video from Jaguar: drift 1,000 meters
Two Jaguar and drift, 1 kilometre!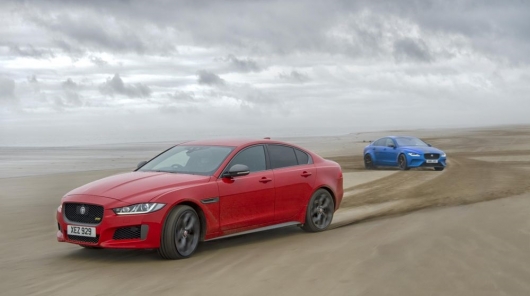 Nice to apply the product to the seller is equal to more than 50% of the work for the sale. Consumer interested in particular things, easy to throw dust in the eyes. And he is ready to believe anything. Not always a bad approach or smacks of cheating, that's just the nature of the business.
To implement this plan Jaguar took two "charged" version of XE on the world famous Sands of pendine beach. There were shooting an impressive drift, which will be remembered by many fans of the brand. Why? Just made a beautiful, synchronous and professionally!
In fact, the company "Jaguar" likes to boast high-quality shots of beautiful drift. Its RWD models with V8 and V6 engines for decades Smoking the tires, but now the brand has made an equally impressive leap forward has created an all-wheel drive XE model.
The video starred two sedans – SV Project 8 and XE 300 Sport, both assembled on the same chassis. Both brought on Pendine Sands, near Wales, where in past decades established British speed records on land. However, speed was not the focus of these two big cats, this time it was sideways.
Both cars slid simultaneously on two mirrored paths along the beach, creating a double helix of length is the kilometer. The action seems simple and intuitive, but in reality not to get lost in the movements of the steering wheel is worth some serious concentration. So, as the Americans say, Good Job!