All 18 of the coolest racing cars Ken Block
Ken Block and 18 sports cars from his garage
18 sports racing cars from racer and showman Ken Block. Choose the coolest car, without which extreme show Gymkhana would be not his.
Block STyle Ford Focus ST (2013)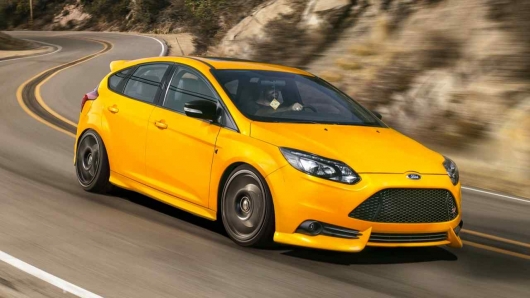 Block STyle Ford Focus ST although is not as memorable black-and-green coloring as other cars in this list, but it unites with them unique design and limited edition. The model was developed with the support of the company "Fifteen52" in the framework of the ST Project in 2012.
Ford Bronco (1974)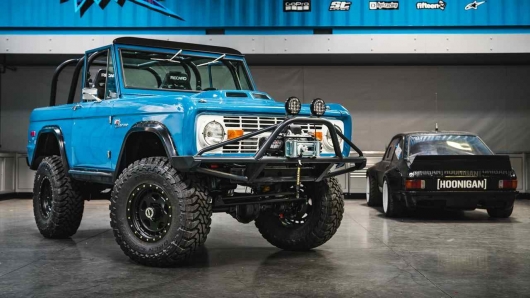 One of the least known cars Ken Block is this fantastic 1974 Ford Bronco. It was built by the NSB Performance (Edgewater, Florida). Old jeep received new life was a gift from Ken to his wife on their wedding anniversary. The model works on the new 5.0-liter V8 engine paired with a six-speed automatic transmission. Updated Bronco offers 435 horsepower and 542 Newton meters of torque under the hood.
Ford Fiesta ST RX43 (6 Gymkhana / Gymkhana 8) (2015)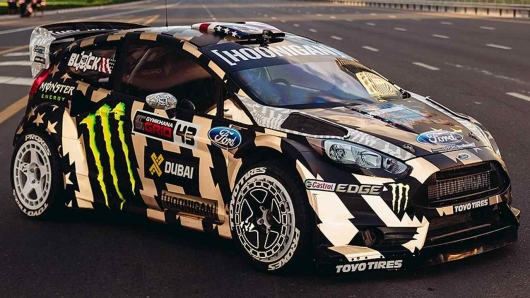 Built for the racing team "M-Sport" Fiesta, acted as a rally-cross car in 2013. This 600-horsepower hot hatch also made his debut in the sixth episode of Gymkhana. It accelerates to 96 km/h in just two seconds, and carries on his body, like a medieval blanket, evil black and white color, which was inspired by sports coloring car rally 2011. Interestingly, the reconstruction is called RX43B was built for use in the FIA World Rallycross in 2014-m to year.
It is also worth noting that car was so memorable and popular that the various manufacturers of radio-controlled models immediately started to make copies on glow engines and electric motors.
Ford Focus RS RX # 43 (2016)
This Ford Focus RS livery "ZEBRA" is the fruit of productive collaboration between Ford Performance, Hoonigan Racing and the British company "M-Sport". The car was built for racing rallycross. Running the model on a turbo 2.0-liter four-cylinder engine. In this case, RS power reaches 600 HP and can accelerate for two seconds to 96 km/h.
Ford Escort MK2 RS (1978/2015)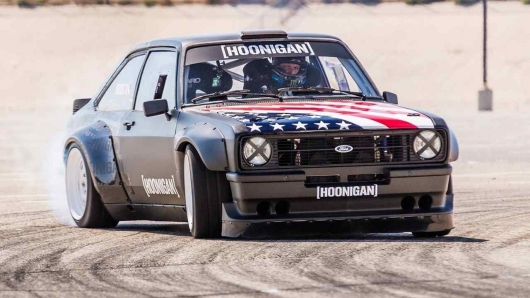 Ken Block, as can be seen, often prefers old cars. Direct evidence of his bias stands Ford Escort second generation, who came to restored in a garage Block in 2015.
The car, though not shared by another series of Gymkhana films, but still received a number of interesting solutions, which sooner or later should bring it to your kind of Fame. This 2.5-liter four-cylinder model engine with 333 horsepower and sequentally six-speed transmission and 9 thousand rpm to cut…
Another perfect car for drifting.
Ford RS200 1986 (Gymkhana 10)
More "maniac" car than the Escort MK2 RS was this Ford RS200 700 HP (!), which debuted in 2017. Non-standard 2.1-liter four-cylinder engine with the turbine, the unusual chassis. RS200 is one of the 200 models that came with factory Ford in 1986, to meet the standards of homologation for rally cars.
According to rumors, RS200 take part in a Gymkhana 10 along with several other sports models.
Ford F-150 Hoonitruck 1977 (Gymkhana 10)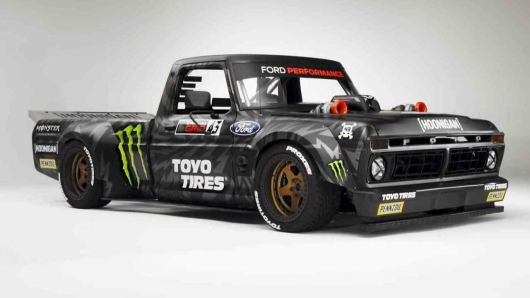 What is the car Hoonigan-oriented practicality? This so-called "Hoonitruck". New racing sports car Ken Block is the pickup truck: video
This practical monster 1977 release, nee Ford F-150, has a whopping 941 HP in their upgraded turbo internals engine EcoBoost V6. The body is made from aluminium manual "sculpting", and all the power goes to the pavement through all-wheel drive system. Hoonitruck was first shown at an exhibition of tuning SEMA models, but will debut in a new series of Gymkhana 10.
Ford F-150 RaptorTRAX (2013)
Say Hello to Ford F-150 RaptorTRAX. As the name implies, it changes the off road tires on the crawler. Looks like the whole thing just amazing. The model by 6.2-liter V8 nadobna. The pickup produces 600 HP and has a six-speed automatic transmission. He made his debut in the video "Monster Energy", which was shot on the mountain Baldface in Nelson, British Columbia, Canada.
Ford Mustang Hoonicorn RTR 1965 (Gymkhana 7/Climbkhana: Pikes Peak)
The most insane "Ken-Block-car" that existed until now is a Ford Mustang Hoonicorn, which debuted in 2016. Works at compressor V8, the first version offers a 845 horsepower and 976 Newton-metre of torque. Enough to bring into disrepair tires in Gymkhana 7.
A few months later came the second version of the Hoonicorn. Debut model this time got dual turbo for the previously installed engine Roush-Yates V8 that is able to reach a capacity of 1,400 HP and 1.695 Newton metres of torque. Debut Hoonicorn V2 was Climbkhana video: Pikes Peak.
Ford Escort RS Cosworth (1991)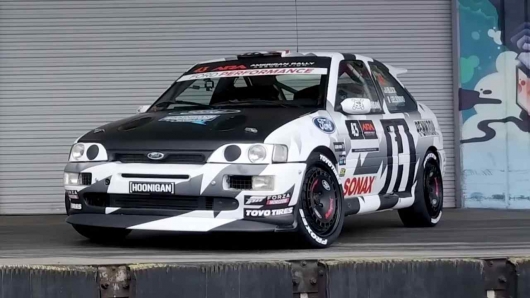 Hard to pick an absolute winner between the two classical models of Ford Escort and categorical rally RS200 variation. Under the hood Cosworth is moved 2.0-liter turbocharged engine capacity of 340 HP. Its body is covered with a unique color, which became a tribute to the already mentioned Ford Focus RS 2016 RX. It was a real animated classic…
Why was that? Yes, just the car burned this year during one of the races. The driver was Ken, but Ford it did not help.
Ford Focus RS (2016)
Unlike the other cars listed, this model looks surprisingly "manual". She seems like she Ken Block decided to make my own personal sports car for everyday use. Before us is a slightly modified model of the 2016 Ford Focus RS.
In addition to the wheels (a set of forged Monoblock-Turbomacs from Fifteen52), the only upgrade for the RS was its suspension. Everything else is standard for a version of "RS": a 2.3-liter four-cylinder turbo engine produces 350 HP and 475 Newton metres of torque.
Ford F-150 Raptor (2017)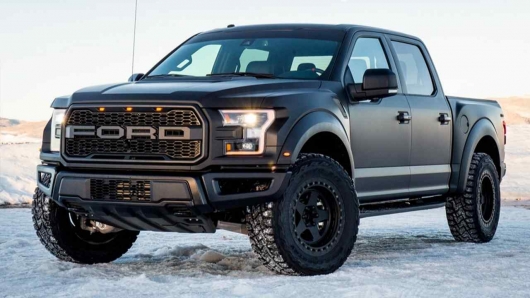 If Ford Focus is not enough to great, you can pay attention to the modified pickup truck F-150 Raptor. Like the RS version in 2016, this truck looks pretty tame compared to other cars in the list. However, it offers updates such as: superior all-terrain suspension, forged wheels dvuhmestnye Turbomac HD Rider from Fifteen52 and Toyo Open Country tyres.
Ford Fiesta R2 (2014)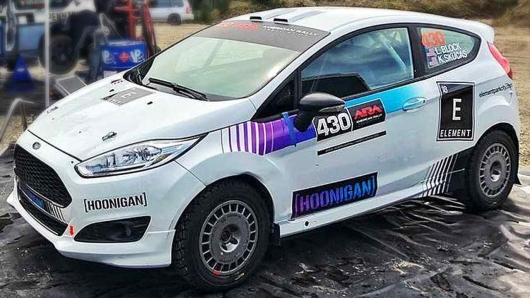 This little one – 2014 Ford Fiesta RS could not count on the laurels of the winner. But it should be particularly noted that since it all started. The model operates on a modest 1.0-litre three-cylinder engine, which produces just 177 HP and equipped with a sequential five-speed gearbox. This may not be the most famous car in this list, but it certainly plays an important history in racing history by Ken Block.
Subaru Impreza WRX STI 2009 (Gymkhana 2)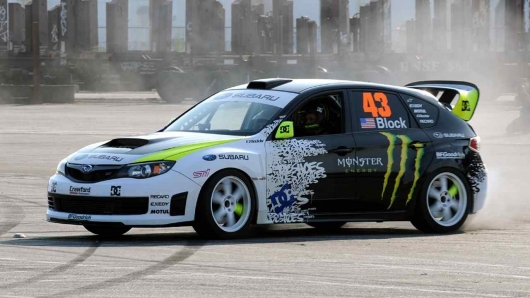 Ken Block is still Ford? It was not always so. Built for Gymkhana 2, this 2009 Subaru Impreza WRX STI – rally car with a 566-horsepower turbocharged four-cylinder. 828 Newton metres of torque are a nice bonus.
2011 Ford Fiesta GYM3 (Gymkhana 3)
After the success of the first two Gymkhana videos, Ken Block and his team has released this retro-inspired Ford Fiesta, which is filled to the brim with all the latest sports technology.
Working lad on the 2.0-liter pumped the Duratec engine from the Fiesta Olsbergs 600 HP with 895 Newton meters of torque. Power and torque go to the asphalt pavement through a six-speed gearbox and all-wheel drive.
In subsequent years, the color model was changed several times, but in 2015 – Monster Energy dub Tour car back to its original appearance.
Ford Super Duty F-450 Lariat (2017)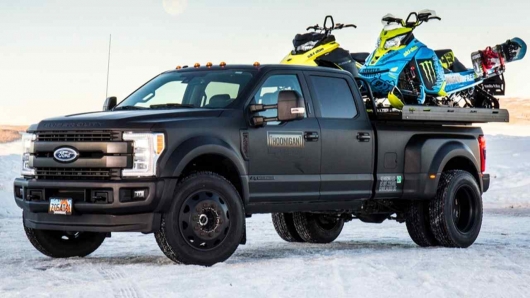 Big truck with big 22-inch wheels, Toyo tires, black exterior and turbo from the factory 6.7-liter V8 PowerStroke Diesel. It is a powerful truck with a powerful ambition to transport all kinds of extreme equipment
Ford Fiesta ST HFHV 2014 (Gymkhana 5)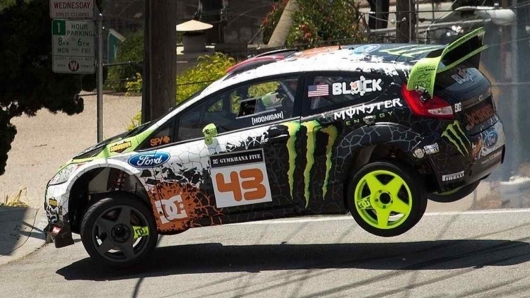 Ford Fiesta ST HFHV (Hybrid Function Hoon Vehicle) was equipped with a 2.0-liter EcoBoost engine producing 350 HP and 698 nm of torque. This Fiesta was built by M-Sport, but eventually fine-tuned the Monster World Rally team. Car model played a major role in Gymkhana 5.
2006 Subaru WRX STI (Gymkhana 1)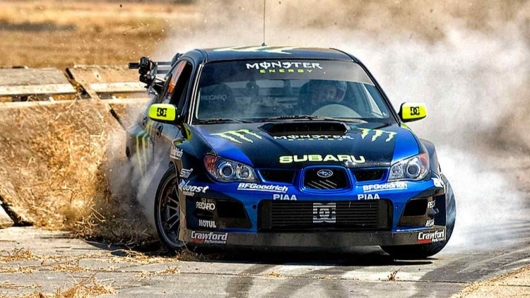 The original a classic. The car that Ken Block used in his first video Gymkhana was this Subaru Impreza WRX STI. 565 HP, weighs a little more 1.259 kg. Japanese sedan many times drove on the rally and participated in the Gumball 3000 race, but made a name for themselves in Gymkhana.