A spy photo of Lada Vesta Sport from dealers
Looks like the sports sedan Lada Vesta Sport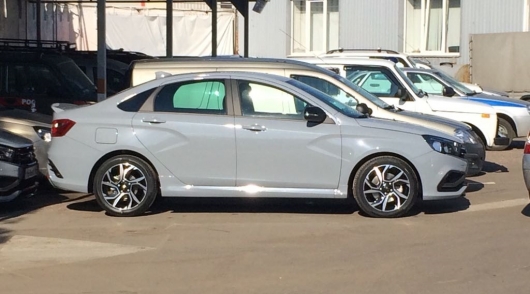 Lada has not yet officially revealed its new sports sedan (the premiere will be held at MIAS 2018 in August of this year), but the hype around the unusual novelties from the Volga does not subside. In the Internet appeared the photographs shipped to the dealers charged Vesta Sport. What does it mean? Yes, that quick start sales soon after the premiere!
Photograph of Vesta appeared in public VK "ladavestaclub".
As stated in the photo caption of the car, painted in the proud "mouse gray" color "Lada Vesta Sport was noticed at one of the Moscow dealers".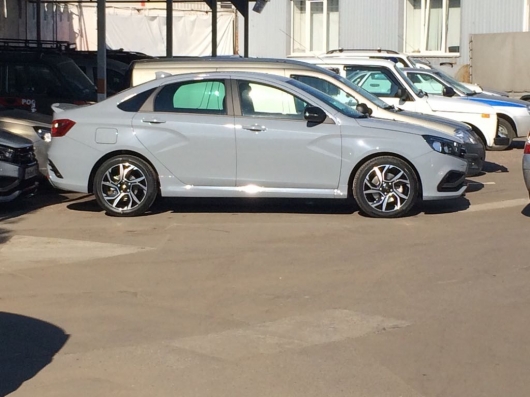 Photo taken from the public VC Lada Vesta Club
Briefly, what distinguishes the sport version of the civil Vesta.
Kit. On the sportsedan will be applied to new bumper with advanced air intakes, splitter and diffusers. Air intakes in the front part is wider which hints at a need to feed larger volume of air for cooling of more powerful motor.
See also: Top 5 facts about the new Lada Vesta Sport
Installed new side skirts, the tailgate is an integrated spoiler, rims with patibulum mount and the pattern is the diameter of the steel much more – 17 inches. The wheels are shod with tires Continental company. Complete the picture of the new exterior mirrors with integrated turn signals and antenna – shark-fin.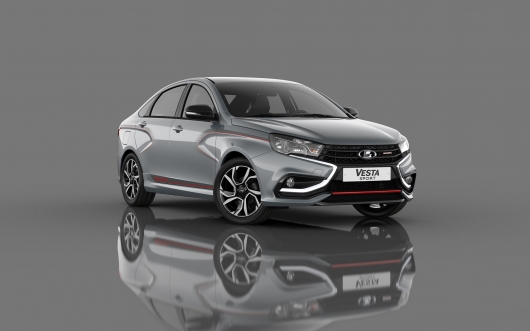 Under the hood yet to be installed a 1.8-liter 145-horsepower gasoline engine with a torque of 187 Nm. He had changed the profile of the camshafts, reinforced drive belt, increased pressure in the fuel system and retuned valve timing.
From deeper tuning on the "sport" model will be set of springs and dampers with improved performance (it is reported that the diameter of the rod of the spring strut is increased to 22 mm, working cylinder – 32 mm. Rear shocks also changed, they stem size increased from 12.4 to 14 mm). Has sports suspension settings, the ride height reduced by 16 mm, now it is 162 mm and the track increased by 35 mm to the front (now it is 1.545 mm), slightly shorter in the back, 15 mm. the car will be equipped with a reinforced transmission.
Brakes are reinforced, in particular, sport Tune installed brake discs of larger diameter.
Thanks to all the improvements of the domestic sedan from the factory out of 10 seconds of acceleration to 100 km/h. First hundred in 9.6 seconds, top speed – 198 km/h.
It is expected that by the end of 2018 will be issued more than 1 thousand of sports Lada Vesta.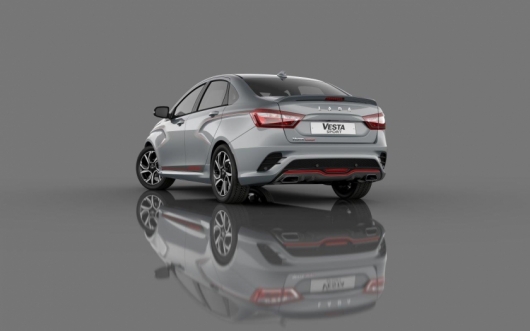 P. S. At the end of 2017, it has become known that maybe the model Lada Vesta Sport will receive two versions of different configurations: option "S-Line" and "R". The first version will be less charged model, the second will be more "sporty" version of a sedan, presumably with a more powerful engine of 180 horses. Lada Vesta will receive two sporty versions: the official name