A simple cross version Stepway Renault Logan
In Russia began selling the new cross version Stepway Renault Logan
Renault, like other progressive brands represented on the Russian market come to grips with the urban mass segment vehicles. No, we are not talking about the updated Duster or some other previously unknown new SUV or crossover from France. All a bit cheaper and easier. We're talking about cross version Stepway Renault Logan – new models of the French group in Russia.
Are the Logan's terrain was presented in mid-August, but only now he has reached dealerships in the country. So, how much is budget a novelty on a raised suspension?
The minimum value of the model was 662.990 rubles. In this case, the version of the model will be offered in three equipment – "Life", "Drive" and "City". The maximum value of the cross-version will be 857.990 rubles.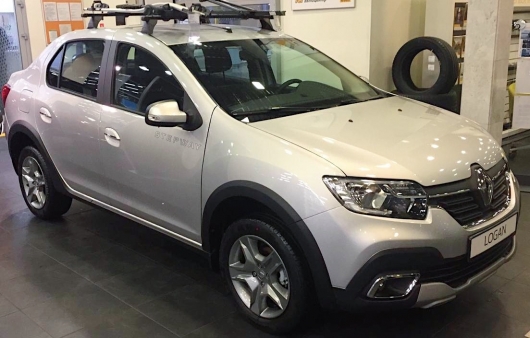 Depending on the configuration the car is equipped with engine capacity of 1.6 liters (82 HP, 102 HP 113 HP), manual or automatic transmission. Though the dynamic overclocking even with the most powerful engine will not skate Stepway, but the car will feature a better geometrical passableness. It will be possible not to be afraid to detach from the bottom of any element on a back road in the country. However, beware of dirt, cross-version does not have all wheel drive transmission, it drive exclusively to the front wheels.
Cross-Stepway Logan sedan has received off-road design with higher ground clearance compared to a sedan Logan (195 mm), C-shaped headlights, daytime running lights with LEDs and overlays on the fog lights. But for beauty, the color scheme and added two new exterior colors – deep red and brown. Only the model is presented in 7 color schemes.
Soon to be available equipment, City, where, as reported in the official press release of the group "Petrovsky Autocenter", the first in the line of Logan will be used as an automatic continuously variable transmission CVT X-Tronic.
The release also notes that "the Logan Stepway is equipped with the latest generation multimedia system Renault that supports Android Auto and Apple Car Play. In the interior compared to Logan changed the design of the steering wheel, and upgraded the rear Central console has been increased the diameter and depth of the bottle-holder, added a 12V socket for the passengers in the rear seats.
The new car has a short activation, turn signals, and instrument panel integrated display engine temperature. Added the possibility of mechanical opening of the filler flap of the car". What can I say, convenient.
Renault Logan Stepway will be produced at the plant in Togliatti.