"A fossil with five doors" in Germany discussed the Lada 4×4 (Niva)
The Germans briefly about the SUV Lada 4×4 Niva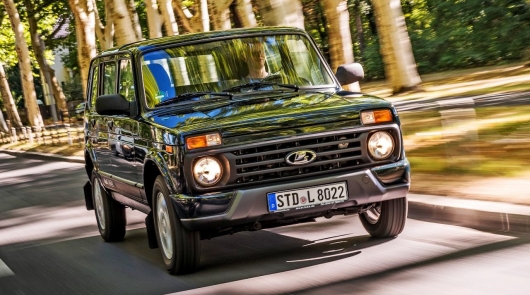 In known far beyond Germany published by "Bild" again touched on off-road past. We decided to see what this time told about Lada Niva the Germans, and that's what I read:
""4×4" emits charm off-rodero of yore
 
Lada 4×4 (former "Niva") is moving to fossil, and recently appeared in a version with five doors in Germany. Bild has checked it."
What I noticed Germans looking at a new old "Niva"?
"Durable SUV new classic car. Since 1977, the Russian SUV has been slightly changed, both inside and outside.
 
In the end: one (!) airbag, ABS, electric side mirrors and front power Windows is available in the version of "Urban". The interior reeks of plastic, thin doors clacking on the castle during the closure.
 
Now the entrance is in the back seat via the additional door is much easier. Of accessories for use in the forest among others present: mount for shotguns, "Wildwanne" (approx. it seems we are talking about a plastic tray for hunters and fishermen, which can add up production), protective rear bumper (protection from the claws of the dog)".
"Rustic" cockpit, noisy ventilation, airbag
A delicate regulation of temperature, a set of toggle switches on the panel
Technical data
Model Lada 4×4 Urban 5-door
engine 1.7-litre four-cylinder petrol, 83 HP;
the acceleration from 0 to 100 km/h – 17 seconds;
maximum speed – 137 km/h;
fuel consumption (according to the plant) of 9.5 litres;
Price from € 14.290
How does it drive?
Testing Russian railway "the Bear" passed in practical road conditions.
"As before. You feel like back to years ago, if you're a first – time driver: shift lever wound its way through the transmission, to possibly meet a reverse gear is a matter of luck. The steering is exactly how drunk William tell, the turning radius is huge.
 
Gasoline engine 83 HP rattles in the cabin, accompanied by a sawing gear.
But on the ground, Lada wheel drive, reduction gear and differential lock is a hard worker who is not afraid of dirt. Experience, therefore, is ambiguous: by today's standards the ride is exhausting, but delightfully nostalgic!"
Extended back part: the volume in the trunk from 420 to 780 litres
How much is it?
"Basic – 12.990 euros, the option "Urban" (heated seats, electric mirrors and plastic bumpers) is 1.300 euros more."
Conclusion
"Old-fashioned, rude and completely unfashionable. Nevertheless, some charming – perhaps because it reminds us of how comfortable was the ride on the car".
Positive:
high SUV;
simple technologies;
good visibility
Negative:
low security;
strong plastic smell;
quite high consumption.