A black sedan Lada Granta older than 10 years: selection of the owners at the end of 2018
Shallow Santa Claus – that convinced CarPrice, counting statistics of purchases of used cars in Russia
To the public favorite holiday – New year – four days left. Time to sum up what we all do. For example, experts analyzed What the used car market Dec. Obtained interesting results that are worth paying attention to.
The most popular cars in December 2018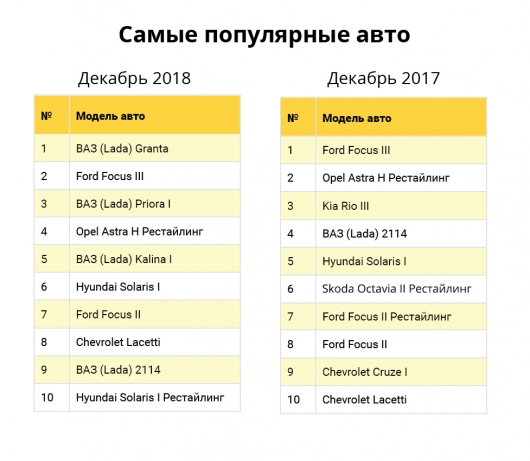 So, according to CarPrice, in December 2018, the average price of a car for sale, compared to December 2017 declined by 8.1% and amounted to 448,2 thousand RUB , the Most popular of used models in the 2018 year was the car Lada Granta, surpassing Ford Focus third generation the second step.
"So this year Santa Claus showed Patriotic feelings, reseeding with Ford Focus, third generation automatic transmission (leader Dec 2017) for the "mechanics" of domestic producers", – said in a press release service for car sales. Well, it looks like the money ran out even with my grandfather…
Third place in the list of Dec also for Lada, and this is one of the easiest saloons on the market – Lada Priora (last year the third place was occupied by Kia Rio).
The most popular body type
The most popular body style in December of this year in Russia is still a sedan. Moreover, the percentage even increased slightly. Second place in the division into body types of the collected statistical data, was given to the five-door SUV, with the rate of 30%, third place in 2018 took the hatchback. Of course, also five doors. Like our Santa Claus practicality!
The least popular in December 2018, used coupe and three-door SUVs. The penultimate and last place in the list.
Vehicles older than 10 years has become more
"In December of this year there are more cars older than 10 years. But the share of "new" cars has fallen sharply," – said "Karlspreis". I believe, I believe.
What colors car was in the trend in December 2018?
And perhaps the most exclusive and certainly the most interesting data relate to the color of cars in 2018. Black, white and silver, like a year ago are still the top three.
"…these colors are among the most popular vehicles offered for sale in December 2018. Red, more suitable for Santa Claus, is only the sixth position. As in the past year."