2020 Toyota Supra: see the serial model
Spy photos of the production version of the Toyota Supra hit the net
The aggressive design of the front and a long, long-awaited premiere of the Japanese sport coupe remained true to the concept FT-1. In the production model, which came in sight of photospin discern the features of the legendary ancestor and new trends in the automotive fashion.
A month is left until the moment when the premiere of the restored version of the old sports car which was drying all the young people panatella cars in the late 90's, early naughties.
This time for sure… this time the Japanese really do not lie? Such promise to show the real version of the sports car next month at the Detroit auto show in January 2019. But how many times have they promised but didn't keep their promises!
But apparently, in a month we do look at new. Proof of this suddenly appeared on the forum "SupraMKV" photo ready to be shipped car. No camouflage – this time. Second, it's not a concept car and production model.
Alter ego BMW Z4 have been caught in the back of a truck. In the pictures you can get a good look at the aggressive design of the front, inspired, as we mentioned before, the concept FT-1 almost five years ago. Compare two cars side by side, the resemblance, down to the internal pattern of the headlights: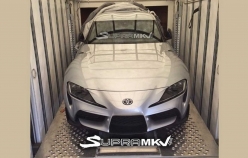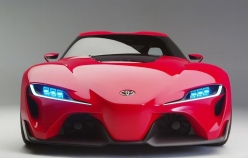 The serial version of the car for the roads pointed "nose" has received a smooth, soft lines, led headlights have also become slightly larger, and the hood has less dramatic structure, and it lacks a transparent window on top.
Side lower air intakes on the bumper look about as large as in the concept FT-1, but the center added another hole that attaches to the serial Supra even more aggressive look compared to conception. Beautiful. But! Where will be attached the license plate?
Well, like what you saw? Vote, we are interested to know the opinion of our readers.