2020 Toyota Supra GR: appearance and official price
2020 Toyota Supra GR officially presented at the motor show in Detroit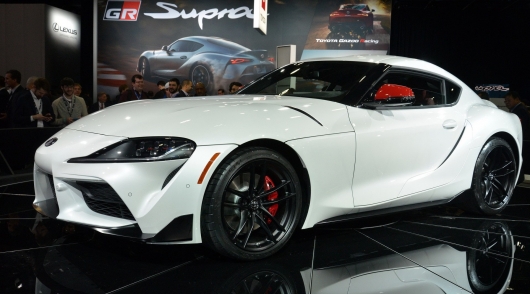 Toyota has finally fulfilled his promise and presented his who had all a bit much due to the protracted waiting Toyota Supra. Appearance, in principle, it is no surprise that the concept-opened it five years ago, and the details of the production model we saw before the New year, and here are some more details, including prices, are published for the first time. The automaker published prices Supra for the US market, but it is easy enough to imagine what kind of money it will cost to legend in a new format in Russia, if the model will appear on the market.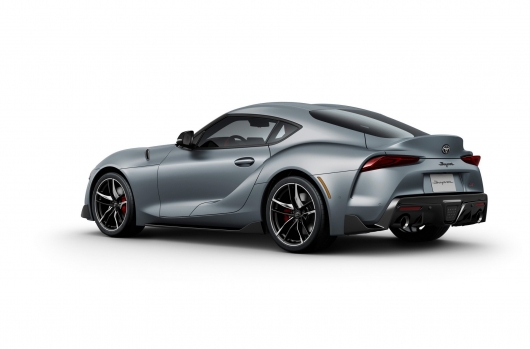 The starting price for 2020 Toyota Supra 3.0 GR will start from $ 49,990 (3.3 million rubles). Toyota Supra in a little more high spec, equipped with the most powerful 3.0-liter engine premium starts from $ 53,990 (3.6 million rubles). The most expensive, top today version of the Launch Edition, is based on the 3.0-liter engine, will cost US $55,250 (3.7 million rubles). It is worth noting that this version of the model will be available in limited quantities, will be constructed of 1.500 pieces in this set.
Models in all trim levels will be equipped with identical volume motor. They have installed under the hood a 3.0-liter turbocharged inline six-cylinder engine producing 335 HP with 494 Nm torque. To operate the power unit will be mated with eight-speed automatic transmission. The shifting is implemented by shift paddles. The rear – wheel drive, acceleration to 100 km/h – 4.1 seconds.
Additional system giving benefits to performance, such as adaptive suspension, active rear differential and launch control will be standard for both classes.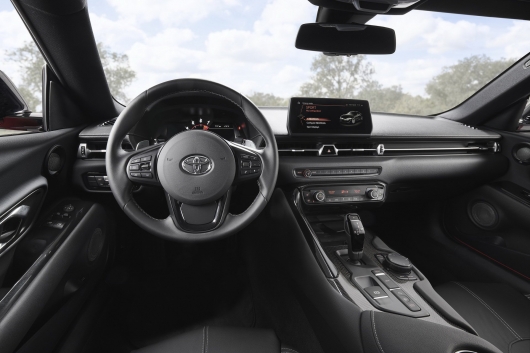 As standard in the cabin you will find a 6.5-inch display infotainment system with Bluetooth, iPod connection (it looks like Toyota is stuck somewhere in the past, but these are the data with reference to the "iPod" was clarified at yesterday's premiere), Alcantara, leather steering wheel, spare smart key, dual-automatic climate control, rear view camera, rain sensor, automatic dimming rear view mirrors and folding. Navigation and JBL Audio will be available for additional dollars.
The premium model 3.0 adds an 8.8-inch widescreen touch display with navigation, telematics services "Supra Connect" wireless Apple CarPlay, 12-speaker JBL audio system, wireless phone charging, colour Head-Up Display and leather seats are heated.
The list of standard safety features on all models consists of a system of forward collision warning, automatic emergency braking function with pedestrian detection, a system to prevent unauthorized lane of traffic, traffic sign recognition and auto high-beam headlamps. Affordable package extra options for $1,195. It includes such additional driver assistance system: adaptive cruise control, blind spot monitoring, assistance system at the check-out reverse, sensors and alert rear collision.