2019 updated Audi R8 in the back: more power and better handling
Updates for 2019 Audi R8 minimal, but important
Supercar Audi is entering in 2019 with a new appearance upgrade package that improves the suspension characteristics and a bit more power than the current version. Audi claims that sporty look introduced in the updated athlete from their racing cars R8 competition classes, GT3 and GT4. Updated new items that will be available to purchase in Europe as a coupe or in version body "Spyder" in the beginning of 2019, it is possible to order it right now. Two different power versions of the engines in principle be tuning the same engine V10 with different levels of force. The model will be called the R8 and R8 V10+.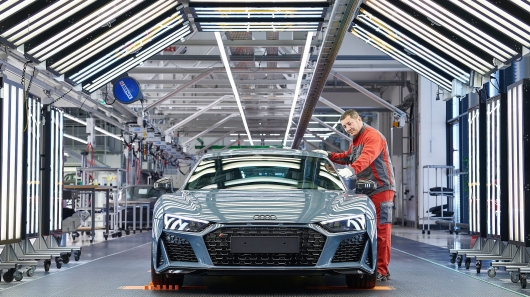 While Audi did not specify information about what the capacity will be for each of the two updated models, recall that the current base model R8 has 532 HP, and the V10 option+ produces 602 HP Audi is Likely to only add little power of their innovations to only continue to keep pace with the development and not to lose the first place in ranking, among the most powerful production supercars, which is currently R8.
Suspension system and all-wheel drive has been enhanced with new sensors and parameters for the calculation of "dry", "wet" and "snow" driving modes. New modes of steering, said to have been set up on the reaction and feedback, "which will appeal to many." With flashing ESC (electronic stability control), Audi claims that the model with a speed of 100 km/h will stop at almost 1.5 meters faster and faster 5 meters at a speed of 200 km/h.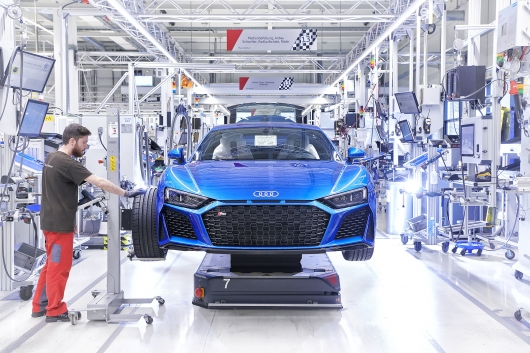 Special attention was paid to the weight of the car, as Audi has removed at least "a few dozen grams everywhere", where it was possible. Front stabilizer bar, for example, are now made from carbon fiber and aluminum, reducing the weight of such parts on 2 pounds. And such points can be found throughout the car with a dozen or more.
There is a choice of two new wheel designs: standard 19-inch and lightweight 20-inch options with the design of "five-V". Five "rays"-spokes from the center.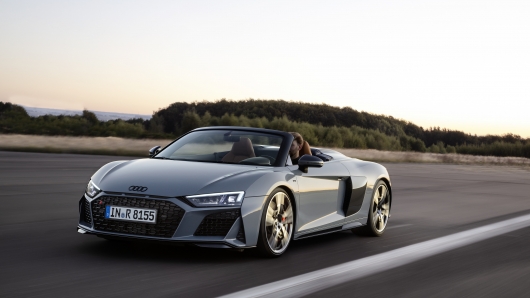 New design… let's be honest, in the "new" design, not much new. There are new wheels, different appearance to the front and rear of the car, refreshed view of the valve cover. Somehow these minimal changes could make the R8 looks much more angry and aggressive. Magic! But absolutely new in the Audi there is nothing.
As soon as Audi will announce a new power, we will have a better idea of whether this car to continue to fight for first place in an increasingly competitive segment or surrender, having fallen in the peloton.