2017 Mercedes-Benz E-Class received the highest safety rating in EuroNCAP
2017 Mercedes-Benz E-Class crash test EuroNCAP 2016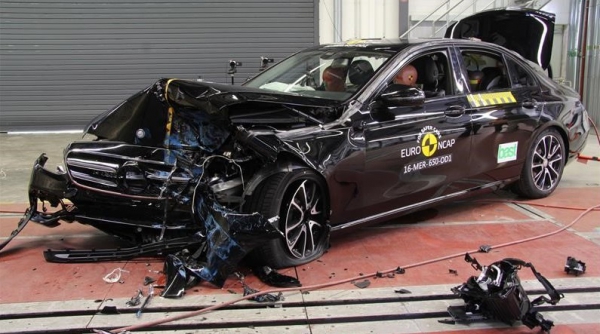 Six months after he was presented the new Mercedes-Benz E-Class, finally a new sedan was tested for safety by an independent organization EuroNCAP. Results we were somewhat surprised, given the well-known concern of the German mark to ensure the safety of people traveling in the cars from Stuttgart.

The E-Class was presented to the public as one of the most modern Mercedes-Benz vehicles today. The company has made maximum effort to ensure that users of business class Mercedes did not feel slighted in luxury and technology, in comparison with the owners of the flagship S-Class. According to many people who bought new, that the Germans succeeded, the E-Class W213 looks like a reduced copy of the prestigious "S"key, and not as the Junior model.

But all of these advancements in style and technology play almost no role in the tests organized by the EuroNCAP safety. This takes into account only the standard functions, so that a simulated crash show a very good picture of what would happen in that case, if the E-Class in the base would get in an accident.

Good news for all those who will take or have already taken the new model E-Class is that car in General earned the highest rating. The sedan worked great uneasy side impacts that are considered doubly complicated for a large four-door vehicles due to a rather large door openings and high average stand. However, the E-Class received the maximum five stars for driver safety and adult passengers, 95% of the result.

In the tests for the safety of children, the E-Class were rated "Good" in the event of a frontal collision and high protection in a side collision. On the basis of all obtained results, EuroNCAP evaluated the safety of underage passengers, E-Class at 90%.

The active hood system of the E-Class helped him to achieve increased pedestrian safety to 77%. When the vehicle detects that a collision with a pedestrian is unavoidable, the Executive mechanisms of the bonnet to lift it, reducing the intensity of the impact on the human body and providing more space between the solid components in the engine compartment and deformable hood. Although Autonomous emergency braking system can prevent most such incidents.
And finally, the most discouraging moment, we can say – the flaw in the security system Eldorado, auxiliary vehicle functions were evaluated on a total score of 62%. Keep in mind that these readings take into account only the minimum standard equipment installed on each car coming off the Assembly line MB.
The situation is easily corrected by installing optional equipment for more money that will be able to make your Mercedes-Benz E-Class is a real technological gem in terms of safety.