2017 Land Rover Discovery revealed in teaser video
Teaser video of the 2017 Land Rover discovery
Land Rover continues to reveal the appearance of its news, Discovery SUV for the 2017 model year. Today for example the Land Rover took off the net a few teaser high quality pictures, showing the SUV from all sides, and shared video content.
Debuting at the Paris motor show, the model has acquired a more modern appearance and more contemporary design of the exterior, the style of which was taken from the concept presented in the 2014 Discovery Vision. In fact the next generation of Discovery combines the elements of a small crossover Discovery Sport and concept 2014, turns brutal SUV in a stylish, but not angry off-road conqueror.
With regard to the internal characteristics of an SUV, they have not yet been disclosed. According to preliminary data in the range of engines will include 2.0 litre diesel Ingenium engine capacity of 240 HP in Addition, in the engine compartment most likely can fit the 3.0 liter petrol and diesel engines V6, which has more impressive power figures. All motors will be paired with automatic transmission devyatikonechnoy.
Based Discovery will use the same platform as the range Rover. Its distinctive feature is the massive use of aluminum, which is actually made monocoque new items. Of course, the novelty in this respect will not only be easier, but will increase resistance in torsion and morozoustoychivosti, compared with the outgoing model.
Standard two Land Rover – the five-seater and seven-seater variants. The second variation will naturally cost a bit more.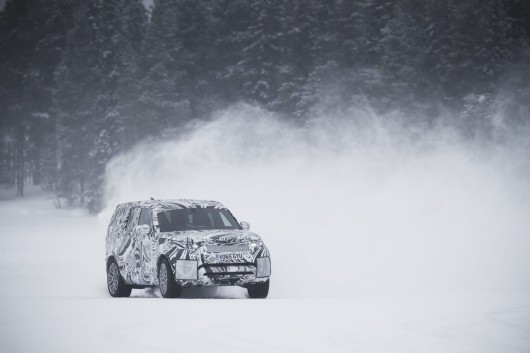 In the teaser video presented by Land Rover demonstrates the potential of the new car. The footage shows the SUV as quietly conquering the sand dunes, is a difficult test in the snow and crossing the deep river fords.

The world premiere will take place at the Paris motor show, 2016. Sales models will begin in 2017.