2017 Audi TT RS: Powerful acceleration and engine sound
Video: Test acceleration Audi TT RS (2017).
French magazine L Argus has published a video from which you will be able to know what is capable Audi TT RS model range in 2017. For example, after watching the video, you can see how fast the car accelerates to 100 and 200 km/h.

The new Roadster from Audi like a rocket, ready to cut through the air and literally send the driver into the vastness of the stratosphere. In the end, the acceleration Audi TT RS (2017) with 0-100 km/h is 3.7 seconds. It is faster than all models produced by Audi. Some argue that this machine is even faster than the Lexus LFA.

Please note that exchanging the first hundred, the car, slightly slowing the rate of acceleration, it is still safely and easily overcame the mark of 200 km/h. But this driver has not ceased to have the TT RS. In the end, the car clocked up to 228 km/h. It is noteworthy that, judging from the description to the video, the Roadster was still stock, but the test ended, as ended straight stretch of road.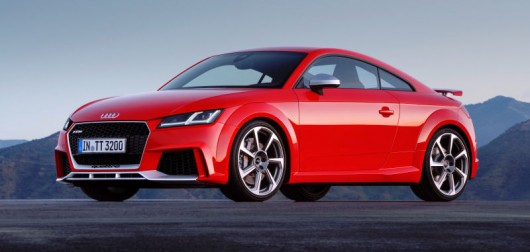 Recall that the new model 2017 Audi TT RS will be sold in the global car market in 2017. The car is equipped with a turbocharged 2.5 TFSI petrol engine capacity of 400 HP and maximum torque is 480 Nm. If you compare this car with the Audi RS3, it's more the model, 33 HP (+ 15 Nm).
However it should be noted that the power of 400 HP is also, and Audi A3 sedan. But this model is unlikely to be able to compete with the Audi TT RS, as the weight of the car is in different categories.
Please note while watching the video acceleration Audi TT RS 2017, digital dashboard where you can see how quickly the car picks up speed under acceleration.