12 SUV 4×4 that can be bought cheaper than 500 000 rubles
That's what real SUVs you can buy for less $ 7,000.
Have you noticed that the real wheel drive 4×4 cars are becoming less and less? In their place came the heartless crossover with AWD pseudoprivate. Yes, of course, in most cases (especially in the city) we don't need more than that. But when it comes to travel for real off road or deep snow, then an SUV with a classic 4×4 drive become indispensable. Alas, these AWD vehicles today once or twice and obchelsya. Plus the price tag they are exorbitant.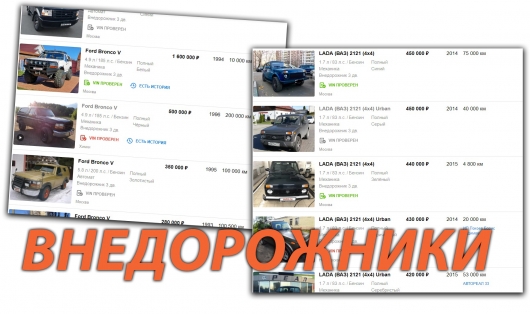 It is clear that in our poor country not many can afford to buy an SUV for a few million. Fortunately, the market for used cars, you can still afford to pick up the SUV 4×4. Moreover, for relatively small money. Yes, many of the vehicles are old and relate to our boring domestic auto industry.
Nevertheless, when you need a car for offroad, then I think that you can live with an outdated or not very high quality machines. There's no need to choose. We have selected for you the TOP 12 SUVs with real 4WD-wheel drive, which can be purchased for less than 500 thousand rubles.
1) UAZ Patriot 3163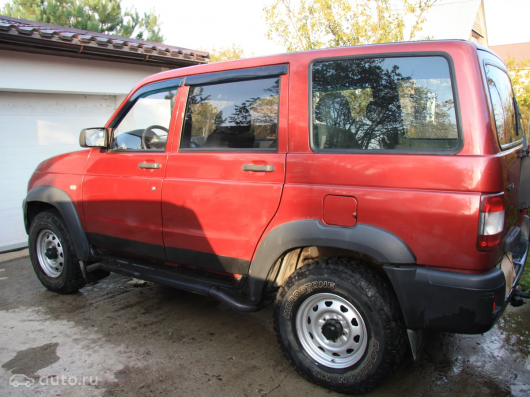 The car is equipped with 4×4 wheel drive. Frame SUV produced since 2005 and became a bestseller in the Russian market. It is especially popular among fans of off-road travel and mileage. This car became the winner in off-road competitions, outperforming most of the foreign SUVs. Yes, of course, the quality and reliability the Patriot is far from perfect.
But this car easy to repair and maintenance. By the way, for this he was loved in the West. Unlike their foreign counterparts, our car, even if it breaks, able to move. Today on the used car market you can purchase this SUV cheaper than 500 thousand rubles. For example, a 2008 UAZ Patriot on average sold for 320 thousand rubles.
2) Lada Niva urban 4×4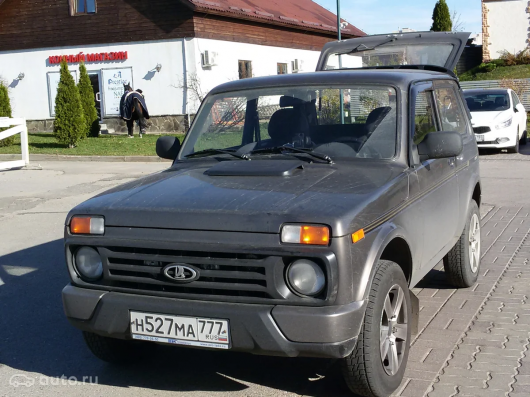 Another domestic SUV (but not frame), who has repeatedly proven their ability in off-road conditions. Niva also low maintenance and cost of spare parts will surprise you. But most of all you will surprise the price of the car, since even a new Lada Niva 4×4 will cost you quite cheaply. Today cheaper than 500 thousand rubles, you can buy a fairly fresh car 2015. For the money you get the only in Russia did not frame the car with the characteristics of this SUV.
3) Jeep Cherokee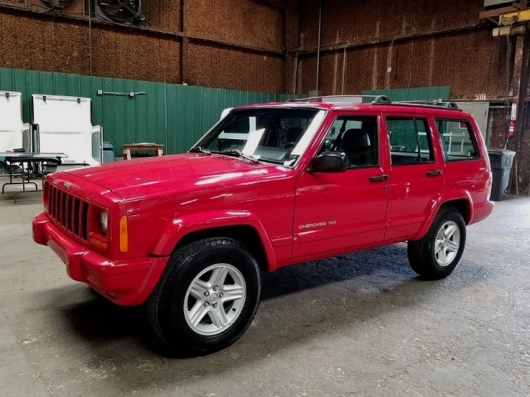 If you like Jeep, you should not strive for luxury, gaining, for example, the luxury Grand Cherokee. Better buy more reliable and easy Jeep Cherokee. Thanks to the classic square forms the SUV is still not out of fashion. Please note that the cars produced from 1987 to 1991, was supplied with the winch. Want a little fresh car? Then consider the 1995 release. The average SUV of these years is about 350 thousand rubles.
4) GMC Yukon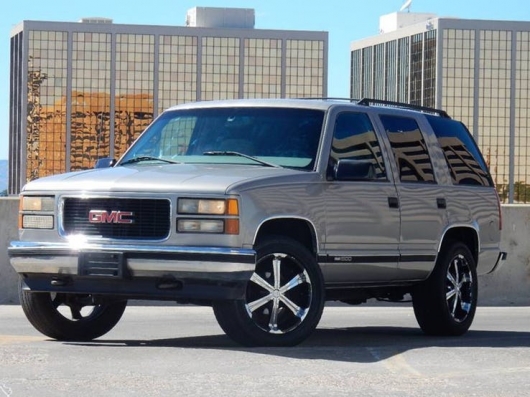 For fans of American SUVs can go the classic GMC Yukon with automatic transmission (model 1999). In addition to the off-road qualities of the car will give you the many different features of comfort and convenience. Under the hood of the Yukon you'll find a 5.7-liter V8 engine producing 258 HP
Today the SUV in 1999-2000 can be bought for 450 thousand rubles. By the way, if you think that the car will eat fuel like a tank, you are mistaken. For this engine the consumption is surprisingly reasonable.
5) Nissan Pathfinder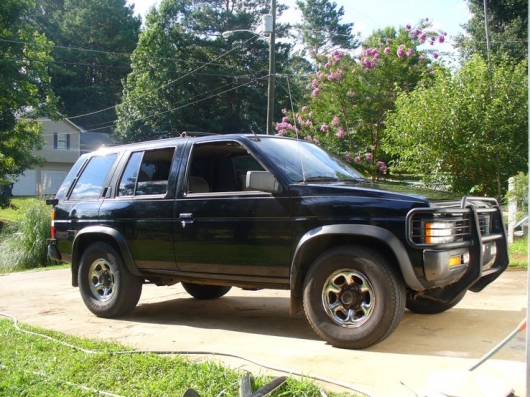 First appeared on the market the Toyota 4Runner, which was quickly followed by the Nissan Pathfinder. Nissan wanted to prove that the 4Runner was not the only Japanese SUV in its class with 4×4 drive. Both cars, by the way, competed with the Ford Bronco II and Jeep Grand Cherokee.
Many believe that in those years, the Toyota 4Runner was much more advantageous than the Nissan Pathfinder. The next generation Pathfinder fans of SUVs fell more to their liking. But most importantly, following the first generation of the Nissan Pathfinder was based on the Hardbody truck. It was the perfect SUV. So if you are considering this car, look for cars until the mid 90s. the Average price tag – 200-300 thousand rubles.
6) Chevrolet Tahoe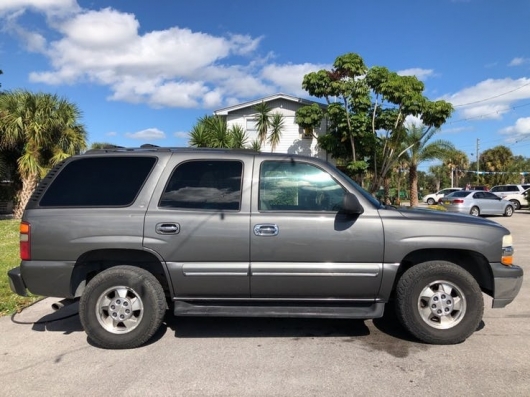 Who knows Chevy Tahoe? This is the legend American brand. One of the most popular in the world of American SUVs. By the way, this car is often confused with the GMC Yukon. But don't be surprised. Both cars are based on the same platform.
Today, if well are looking for, you can buy quite lively Tahoe 2005 for less than 500 thousand rubles. And not only will you be amazed at the comfort level, but will be shocked by the possibilities of this machine where there is no pavement.
7) Toyota Land Cruiser 80-series
For fans of the Toyota cars less than 500 thousand rubles, you can offer the legendary Toyota Land Cruiser 80.
There are on the market, of course, more expensive cars. Especially in normal for its age condition. These proposals suggest to consider. In fact, if you delve into the history of the Land Cruiser, this SUV is not a pity to give money.
Believe me, it's worth it. No wonder this machine is very slowly falling in price. The demand has long exceeded supply. And all thanks to not only the off-road qualities. In fact, this car is loved the world over for the reliability (indestructibility). So if you own a car built in the mid-90s, welcome to the club of owners of Toyota SUVs.
8) Toyota 4Runner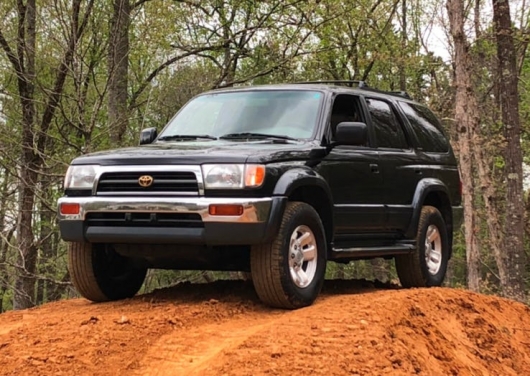 Here is another worthy SUV Toyota. We are talking about supernadeem 4Runner which also has a little attenuation, and Land Cruiser. Less than 500 thousand rubles, you can buy Toyota 4Runner 1998-1999. If you try, it can find a place to even 2000. The car is equipped with a 3.4-liter V6 engine rated at 185 HP On the roads you will be enough for the eyes.
9) Ford Expedition
I advise you to look for a model of the late 90's-early 2000-ies. This Ford is equipped with 5.4-liter V8 engine 232 HP As you can see, the car does not fall under a transport tax levied on cars with capacity more than 250 HP
10) Dodge Durango
SUV Dodge Durango remembered by their capacity and handling of a small sedan. Yes, you won't believe, but the steering of this machine was as informative as a small light modern sedan.
The owners of this SUV always praised for his durability. Particular praise for the V8 engine. The only problem of this car is the fuel consumption. Will be looking for a car, look for models 2001, our database was equipped with a 47-liter V8 engine with a capacity of 238 HP, We found in the ad car, 2000. Price – 285 thousand rubles.
11) Mitsubishi Pajero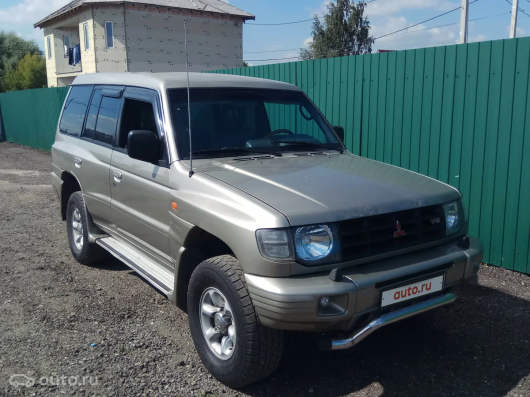 Drivers who can't afford a Land Rover, do not worry. For example you can buy a great alternative for your off-road troweprice. We are talking about a stunning SUV Mitsubishi Pajero. The car was equipped with 3.5-liter V6 engine with 194 HP Yes, this machine is not the prettiest in its class. But when your SUV covered in dirt out of impassable terrain, for you it will not make any difference.
12) Ford Bronco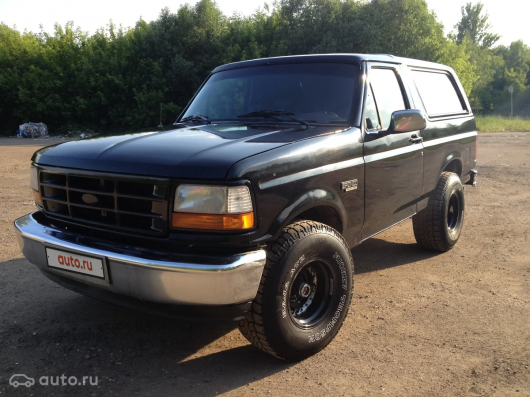 The Ford motor company was mass-produced SUV Bronco for 30 years, until 1996 not made the decision to stop the release. In that year, the millions of fans of this car were in shock. Hundreds of thousands of fans of the model fell on the floor, stamped her feet and screamed, not believing that Ford so suddenly brought the legendary SUV from the market. By the way, fans of the SUV has never forgiven American companies this betrayal. Eventually got to the point that Ford even decided in 2020 to resume Bronco production at its new generation.
But, alas, whatever was released by the Americans, in any case, we no longer get the off-road classic that you could buy in the 80s and 90-ies. Today in the Russian market of used cars has an interesting Ford Bronco. For example, in the photo above the car is worth 500 thousand rubles with a possibility of bargaining. The machine is 1996 model year. As you can see, this exclusive SUV is one of the last off the Assembly line in 1996. The car is equipped with 4.9-liter engine producing 185 HP