10 innovations that are waiting for Russia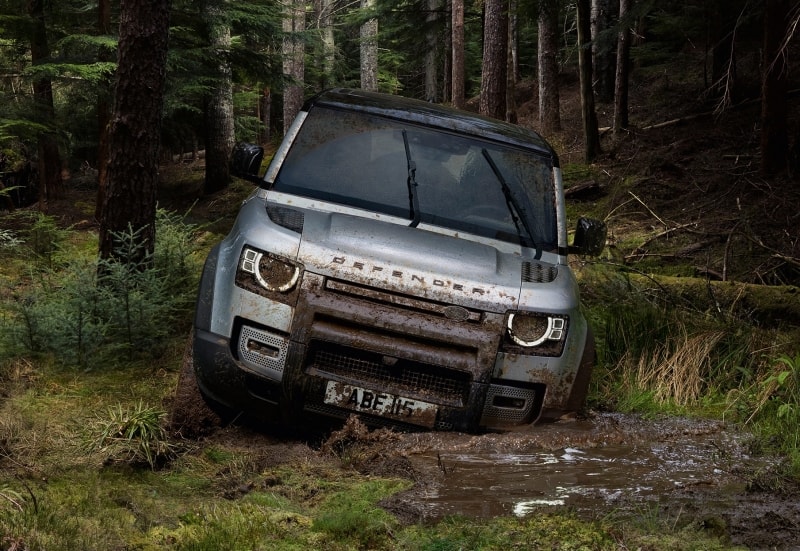 10 innovations that are waiting for Russia
Dealers of Moscow, St. Petersburg and other major cities, finally opened after quarantine restrictions. And they can already purchase or order new items, which during coronavirus lockout in the Russian market has accumulated is not enough. About them will be discussed in our review.
Land Rover Defender 4 512 000 RUB.
The first batch of SUVs that will bring in Russia, includes 130 copies Land Rover Defender new generation in trim levels SE and HSE with 5-door body and longer wheelbase. They can already be ordered from dealers, but the machines themselves will be brought only in the fall.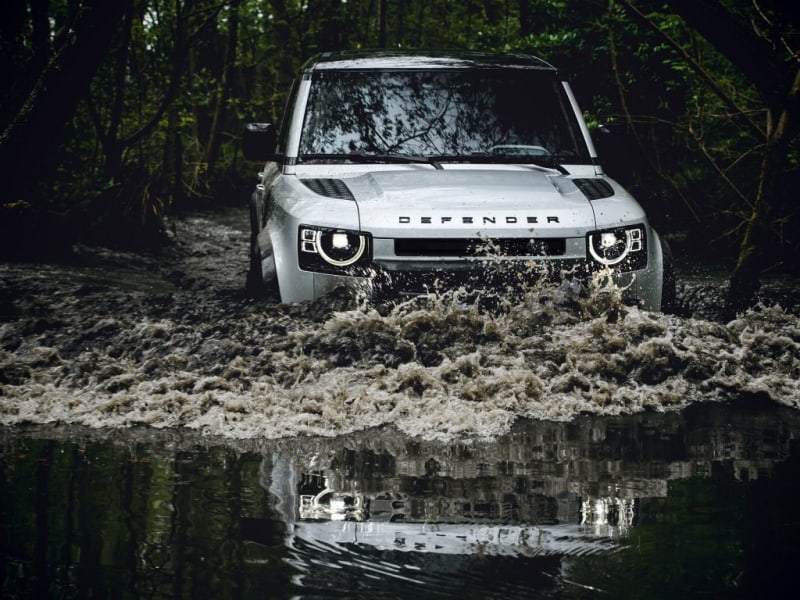 In a regular vehicle Defender SE includes air suspension, 20-inch wheels, led headlights, leather interior, 12.3-inch electronic instrument panel, separate climate control, media hub with 10-inch screen, camera circular review and monitoring system "blind" zones. Version HSE is equipped with the richer: there is a matrix headlights, panoramic sliding roof, adaptive cruise and front seats with ventilation.
New Defender can be ordered with a diesel "four" power of 200 and 240 HP, and a 400-strong petrol V6, equipped with a "mild" hybrid drive. – High quality model enhances the regular all-wheel drive and two-step "transfer case".
Audi e-tron 5 595 000 RUB.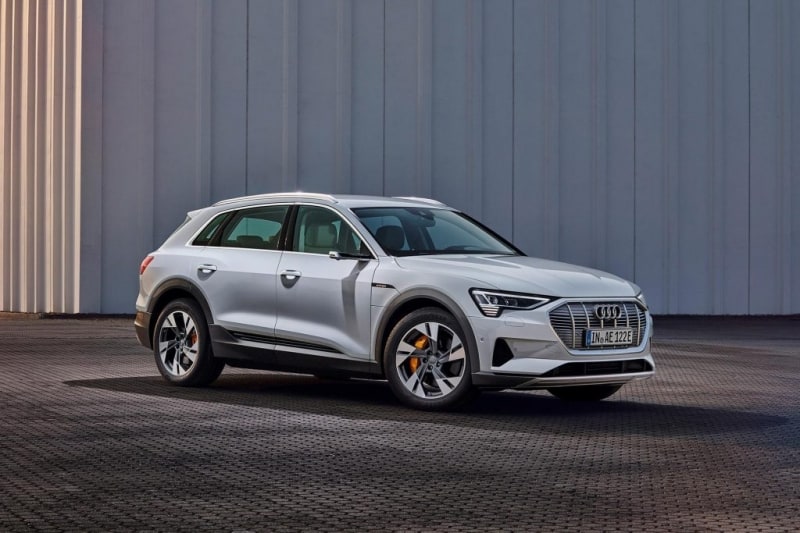 Russian dealers of Audi started taking orders for the electric crossover e-tron. Power two motors — 408 HP range – 436 km. the charging station with DC power up to 150 kW e-tron charged in 30 minutes. But, alas, such charging stations in Russia yet. In the home electric crossover can be charged with alternating current with power up to 11 kW. Standard mobile charging system provides two options of use: from the mains voltage of 230 V or three-phase mains voltage of 400 V.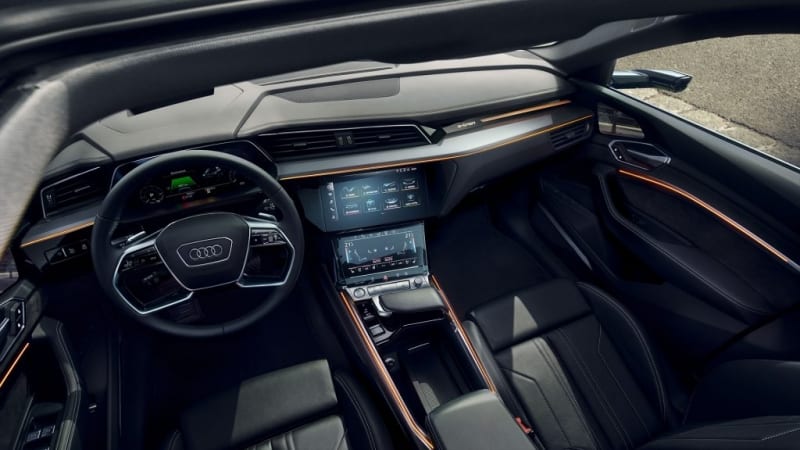 Standard model comes to air suspension, 19-inch alloy wheels, fully led optics, separate climate control with individual settings for driver and front passenger, media center MMI navigation, virtual dashboard, Parktronic front and rear, a withholding system in the lane and many more.
Volkswagen Jetta 1 485 000 rubles.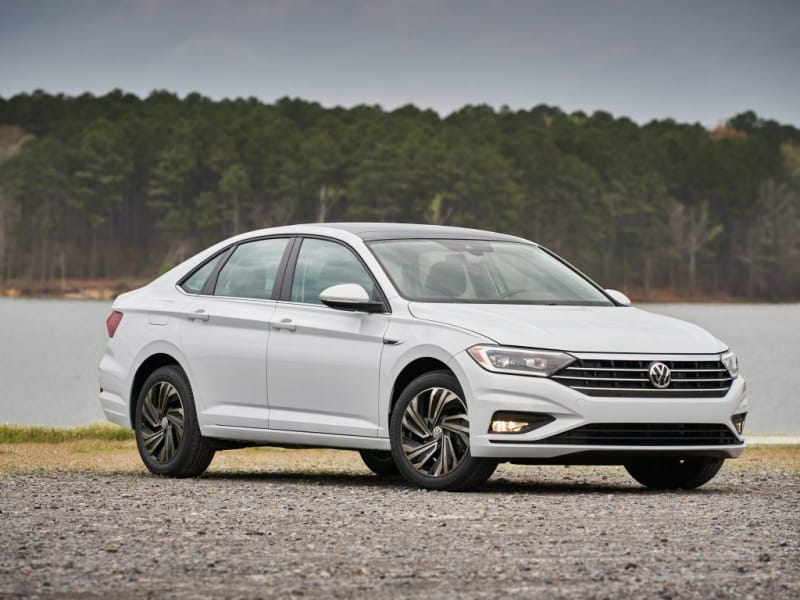 The new "Jetta" has finally reached the Russian dealers. Even the basic version of the sedan, well equipped: in the configuration Origin has 6 airbags, led headlights and taillights, heated mirrors, a multifunction steering wheel, front armrest, Central locking with remote control, control system tire pressure, air conditioning, media center with 6.5‑inch display, cruise control, power Windows "circle", as well as heated front seats and washer nozzles. The next level — package contents Respect, the prices of which start from 1 630 000 p. there are 16‑inch alloy wheels, fog lights with the function of illumination of turning, steering wheel heating, mirror with automatic anti-dazzle, interior lighting, anti-theft system, separate climate control, rain sensor, Keyless entry with engine start button, as well as Parktronic front and rear.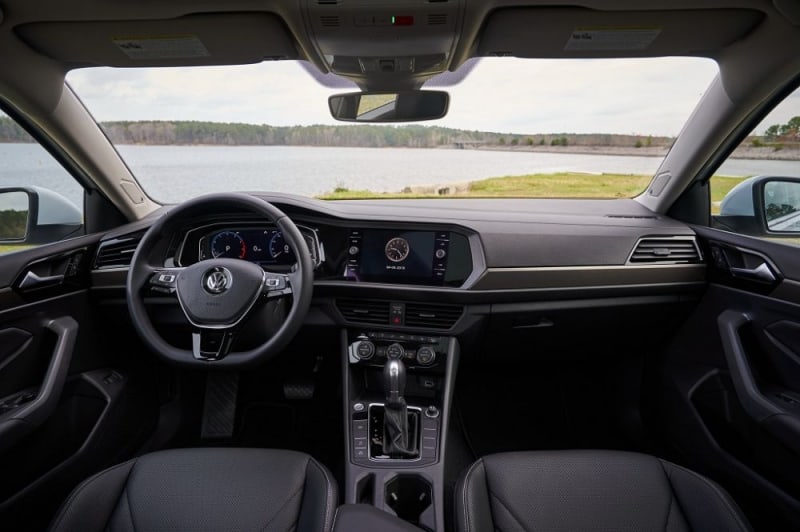 In these two models the sedan only comes with a 1.6 MPI engine (110 HP) and a 5‑speed manual transmission, extra charge for 6‑speed automatic — 60 000 p Those who want from the new Jetta has more dynamics, an available turbo engine 1.4 TSI (150 HP) with the automatic, but it is only on the top version Status for 1 860 000 it has 17‑inch wheels, chrome trim, Full LED headlights, upholstery artificial leather, front sports seats with electric driver media center with 8‑inch screen navigation, rear view camera, electronic instrument panel, heated rear seats and adaptive cruise control. In the same configuration with the motor 1.6 MPI sedan will cost $ 65,000 cheaper.
Volkswagen Polo 792 900 RUB.
Built on the basis of liftback Skoda Rapid new product significantly more expensive VW "Polo of a sedan". However, about the same now stands, and the "rapid". The new VW Polo is available in four trim levels. The basic version of Origin for 792 900 p. a 90 — horsepower engine 1.6 MPI, 5‑speed manual transmission and good equipment. Here, for example, has a stabilization system, two airbags, pressure sensors in the tyres, led headlights and taillights, power circle, onboard computer, remote opening of doors and even the media center with 6.5‑inch touchscreen that supports Apple CarPlay with Android Auto. But air conditioning as well as heated front seats and heated electrothermal in the initial configuration there and not order them even for a fee, as an automatic transmission or more powerful engine. This is already available in version Respect, the prices of which start from 837 900 p. Adding to this the price tag of 40 thousand, you can take the 110‑strong version of the mechanics, and 6‑speed automatic transmission will cost another 50 thousand.
The next step is a version Status. Here it goes the engine power of 110 HP, and the price tag — at least 900 p. 971 this amount includes 15‑inch alloy wheels, leather-trimmed multifunction (it is heated) and lever handles gearbox / handbrake, front armrest, auto-darkening rearview mirror, climate control, colour display, on-Board computer, cruise control and the original dash trim. The extra 25 900 p. you can order electronic dashboard, over 23, 900 p. — winter pack with heated windscreen and rear rows of seats, and for 28 900 R — package "Security" that includes side airbags and curtain airbags and rear disc brakes. Since the completion Status is also available 125‑horsepower turbo engine 1.4 TSI with 7‑speed DSG (with standard rear disc brakes) — this VW Polo is from 1 069 900 p.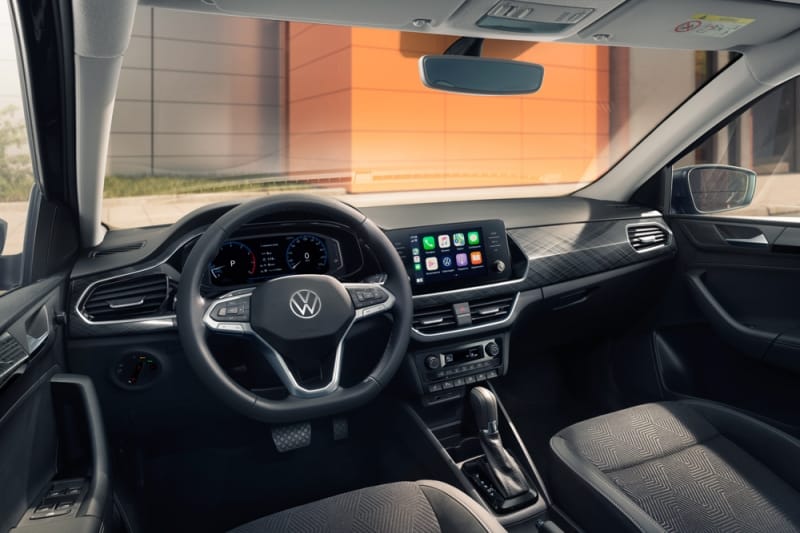 The most expensive Polo in top configuration Exclusive: here the prices start from 1 p. 111 900 liftback engine with 110 HP and manual transmission. This car is Packed full, including standard electronic the tidy, media center with 8‑inch display, the chrome trim inside and out, more efficient led headlamps of the projection type, Keyless entry with engine start button, rear disc brakes, Parking sensors front and rear, and rain and light sensors, as well as heated rear seats and windshield.
Jaguar F-Type from 5 715 000 rbl.
Motor gamma updated F-Type consists of three petrol engines: a 300‑strong "turboservice", 380‑horsepower V6 and forced to 575 force of the compressor for the V8 version of the F-Type R. All engines are paired with 8‑speed automatic. Of the innovations in the interior dvuhdverok — modified 12.3‑inch digital instrument panel, support for Apple CarPlay and Android Auto and wireless software updates. In addition, the version of the F-Type R got a new system quiet start Quiet Start. In the first year of sales to customers will be available version of the First Edition with the pack, Exterior Design Pack, black contrast roof, special 20‑inch wheels and Performance seats adjust in 12 directions, with leather upholstery Windsor Leather and monogram.
Kia Seltos 1.6 1 099 900 RUB.
In June, the Russian market will be a budget version of the crossover Seltos Kaliningrad Assembly with atmospheric engine 1.6 (123 HP). Prices start from 1,01 million rubles for the car with front-wheel drive and manual transmission. All-wheel drive version will cost at least 1 239 900 p. the Fee for machine — 40 thousand.
Renault Kaptur from 1 020 000.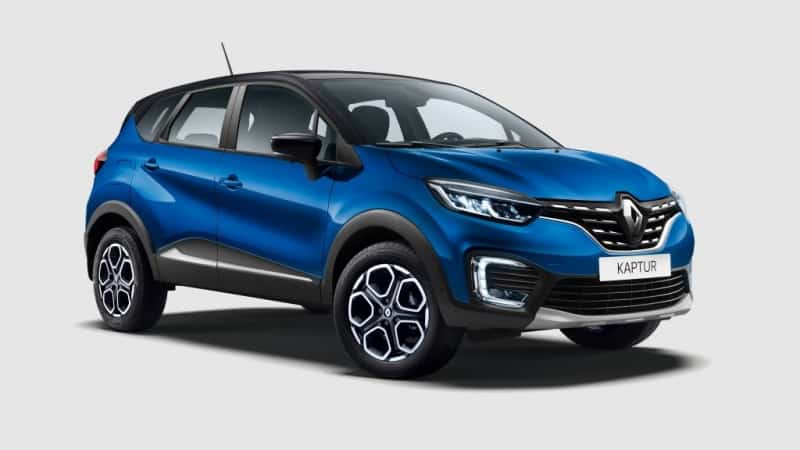 With the restyling of the "Captur" changed platform: now he shares it with "Arcanol" as a 150‑HP 1.33‑litre turbo with a CVT Jatco which replaced the 2.0‑liter aspirated. Base power 114‑horsepower engine 1.6 remained the same. Crossover also got a new steering gear with electric power steering with variable performance. From changes in appearance — new grille, led optics, the new design discs and two times more colour combinations of the body (total of 24).
In the interior redesigned ergonomics and better quality materials. The top panel is now trimmed in soft plastic. Completely redesigned centre console: there is keys, heated seats, washer mode selection wheel drive transmission and Cup holders. The revised button layout. Added capacity for trifles. There's a new multifunction steering wheel, heated and adjustable for height and reach. Changed chairs. Winter package updated "Capture" includes electric heating washer jets, windscreen, steering wheel, side mirrors, front and rear seats. Among new features we note of the system of monitoring of blind zones, automatic folding mirrors, camera circular review, indicator for washer fluid level, ambient interior lighting, a new media center with 8‑inch screen and support for Apple CarPlay, Android Auto, and Yandex.Auto (!), the Bose sound system and a new key card. Price crossover after restyling increased by 75 000 p
Toyota Highlander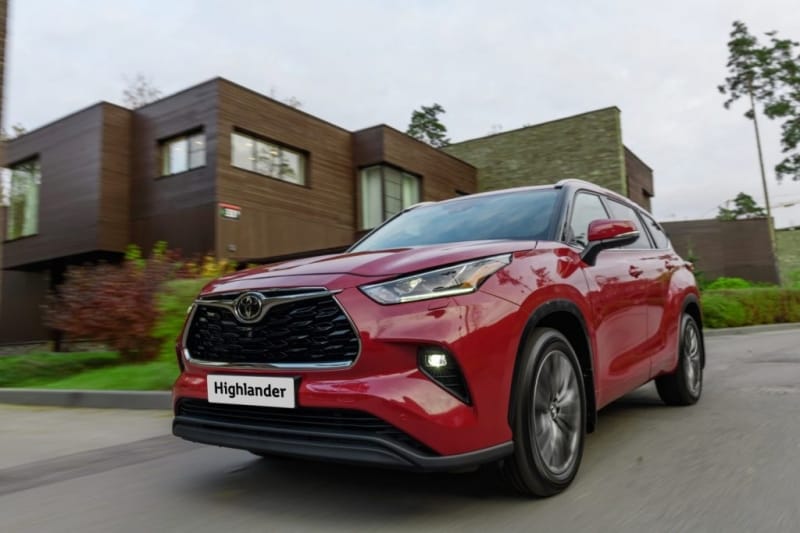 Summer in Russia will start selling the Toyota Highlander is a 4‑th generation. Compared with the predecessor, the new crossover bigger and bigger (wheelbase increased by 6 cm), received a more dramatic appearance and improved equipment. The list of equipment models include full led headlights and taillights, 20‑inch wheels, panoramic electric roof, adaptive cruise control, media center with support for Apple CarPlay and Android Auto, head-up display and full winter package. The same as the RAV4, Highlander equipped with new four-wheel drive system with Dynamic Torque Vectoring AWD, with two electromagnetic clutches in the rear axle and a choice of driving modes Multi Terrain Select. Under the hood is the proven 3.5‑liter atmospheric V6 8GR-FKS paired with 8‑speed automatic.
Karoq Skoda 1.4 TSI 4×4 1 468 000.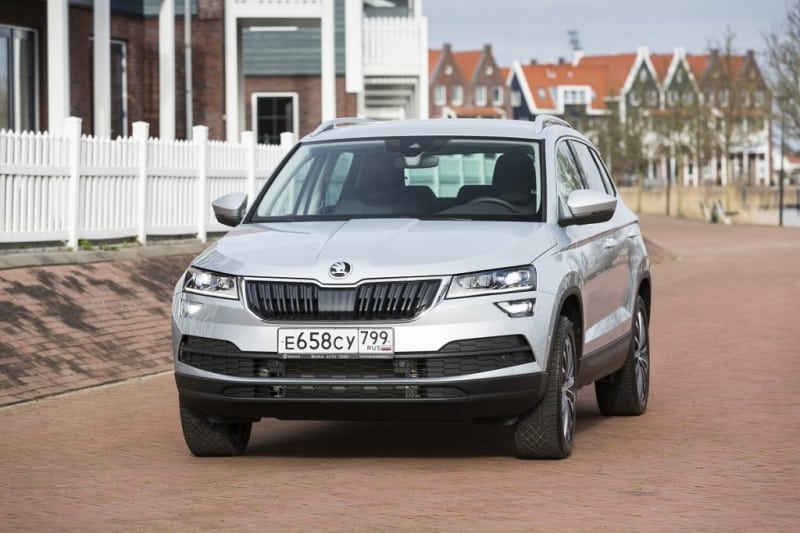 Crossover Skoda is now available to Russian buyers and all-wheel drive. New model is front-wheel is increased by 4 mm (164 mm) ground clearance, as well as the presence of regular function "automatic Parking brake" Auto Hold and 18‑inch disks. This car is equipped with the petrol engine 1.4 TSI (150 HP) paired with a robotic 6‑speed DSG wet clutch. The version with the motor 1.6 MPI is not produced — they must stand on the conveyor closer to the middle of the summer of 2020.
Bentley Continental GT V8 from 14 248 000.
Bentley started deliveries to Russia Continental GT 4.0 litre V8 petrol engine with twin-turbo power 550 HP Maximum speed of the coupe — 318 km/h and acceleration to 100 km/h in 4,0 s. the hardware List, in fact, can be anything — the Brits are ready to individualize every car. In this Continental GT V8 for a half million cheaper version with W12.