10 facts that will change your driving skills
Here's what you should know, sitting behind the wheel.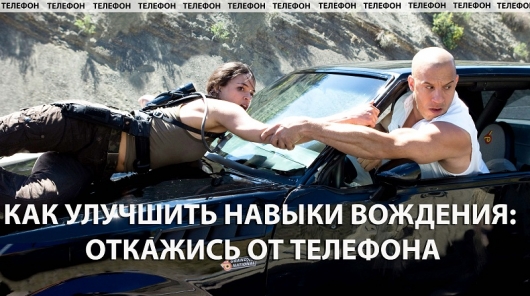 Do you think that in addition to the experience of driving will help to reduce the risk of accidents? Of course, only strict observance of traffic Rules will reduce the risk of accidents to a minimum. But unfortunately, even if we are the most law-abiding drivers, we still are not able to insure themselves against accidents. Do you know why? Because there is always someone who will ignore road safety and to observe traffic regulations. For example, you follow the rules on the road? We believe that even if you meticulously observe the speed limit, distance, rules of journey of intersections and other road sections, traffic signals and controllers, fulfill the requirements of all traffic signs, do not ignore the markup, you still sometimes use the phone while driving. Unfortunately, this sin, even the most law-abiding drivers. Want to improve your driving skills? Then here's 10 facts that will make you stop using the phone in the car.
1) do you Know that most mobile phones are driving the use of young inexperienced drivers?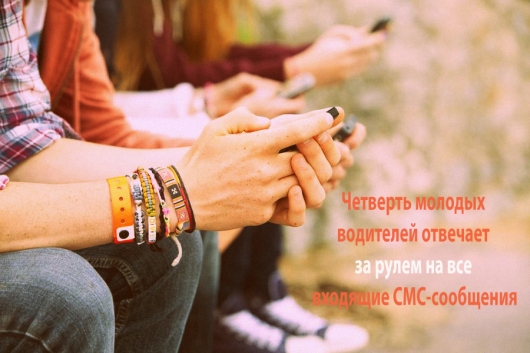 We already know how much distraction the phone while driving. But despite this, many are unable to refuse it while driving in the car. And even if you don't pick up the smartphone when driving, it does not mean that you are safe on the road. Because the phone in the car uses a huge amount of drivers. Especially dangerous are young drivers-beginners who only recently acquired the rights. Besides that they have no driving experience, they also are more likely to use mobile phones while driving. In the end, this category of drivers has twice the risk of getting in an accident. Therefore, I advise you, first, to abandon the phone while driving, as well as constantly monitor other traffic participants on the road. Especially carefully supervise young drivers. They can really something to miss on the road due to the fact that they were distracted by another message in the phone.
2) most Often in accident because of the phones get drivers under the age of 20 years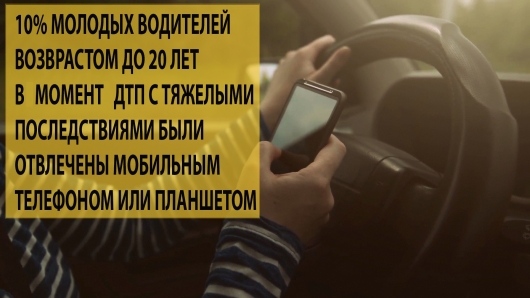 Unfortunately, the world today can not imagine life without electronic gadgets. Especially without smartphones and tablets. Many of us have long sleep with your phone, and in the morning immediately after waking up you climb into the timeline of the phone or the Internet to find out what happened in the world overnight. This habit has led to the fact that most drivers are unable to abandon the phone and even driving. And most understand that the phone is very distracting. Nevertheless, we ignore this fact. Especially frivolous in this regard, young drivers.
3) Even a glance at the phone screen when you receive a message strongly distract you from the road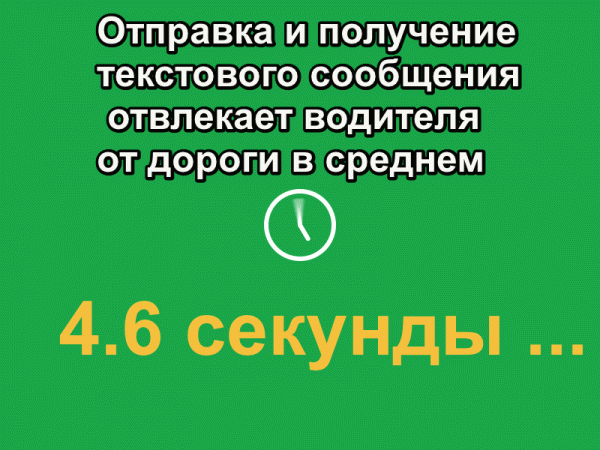 According to research, if you drive the car for a moment distracted by reading a text, on average, will lose control of the road for about 4.6 seconds. It would seem that short time. But actually it very much. The fact that the road always decides everything milliseconds. That's why, to improve your driving skills, you will in any case should not be read and, of course, send messages from your mobile phone when you are driving the car. After 4.6 seconds on the road a lot can happen. Especially if you are moving at a considerable speed.
4) If you will be distracted from the road to read messages on your phone, you will have overcome a huge distance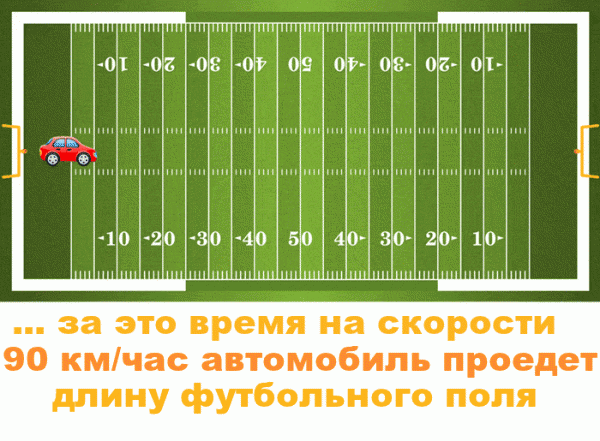 A lot or a little – 4.6 seconds for which you practically lose control over the traffic situation? As we have said, it's really a lot while driving. For example, if you move the vehicle at a speed of 90 kilometers per hour, distracted by the screen of your smartphone, which came a SMS or a message from the social network, in reading it you will travel approximately the length of a football field. Can you imagine what is the length? And, what is terrible, this way your car will pass under your complete control. It is very very dangerous.
5) Here is another proof that young people most often get into accidents because of phone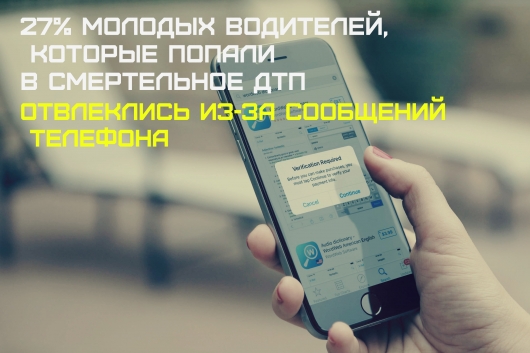 According to the statistics of accidents, 27 percent of young drivers (under 20 years) are in a severe accident my fault, as just briefly distracted by the screen of his phone, driving a car.
6) But as you can see, frequent use of phone while driving is not only sin young drivers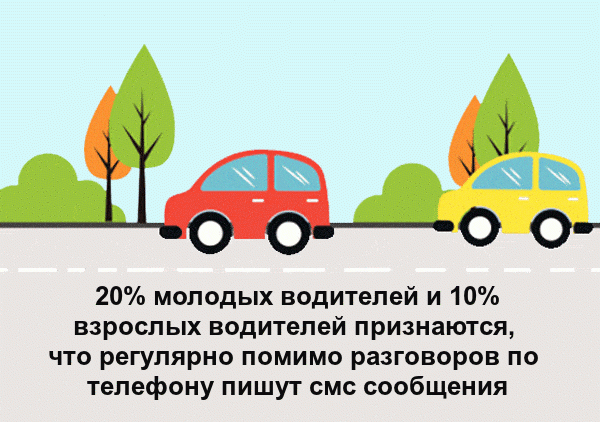 According to an independent survey conducted in Russia, it was found that 20% of young drivers constantly use the phone at the time of operation of the vehicle. But, unfortunately, not far behind them and adult drivers. And experienced. You will not believe, but a large number of motorists in the elderly in recent years often began to use smart phones while driving. It's terrible figures, which lead to a not very rosy statistics of road accident in Russia.
7) Before you can take while driving the phone in hand, remember these numbers

If every driver in Russia is constantly studied detailed accident statistics, then, believe me, many of them wouldn't be their fault in an accident. But, alas, in recent years accident statistics almost nobody cares in our country, with the exception of journalists and various industry experts. But we advise every driver to learn this information not only to see the real picture of accidents on Russian roads, but in order to understand the consequences of even the slightest traffic violations.
8) According to international statistics, road accidents annually around the world due to the phone in the car affects hundreds of thousands of people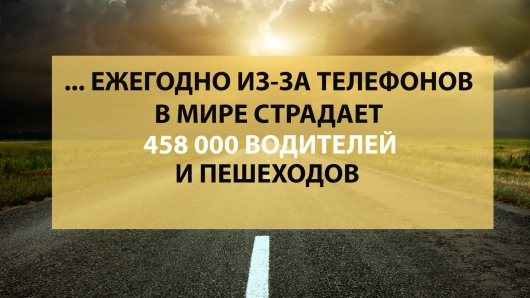 Know why! there are so many accidents? The thing is that, according to numerous studies, cell phone distracts the driver so much that, in fact, reduces the concentration of attention and speed of reaction to the same level which is observed at a light alcoholic intoxication. Naturally, reduction in reaction time and attention when moving at speed even a tiny millisecond everything. As a result, many drivers, without realizing it, sitting behind the wheel and using a cell phone in spite of the legislation, in fact, are driving while intoxicated.
9) Reading and sending messages behind the wheel distracts our brain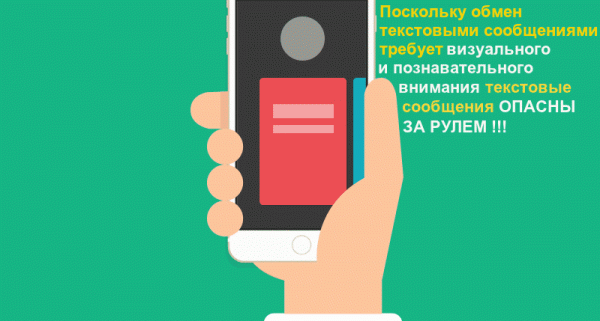 Alas, our brain over millions of years of evolution have not learned how to simultaneously handle a large flow of information coming to the senses. While driving our brain does a very complex job of processing the huge flow of information that comes not only to our sight but also other senses. Unfortunately, at this time, if you're distracted by your phone that had a message, or worse, decide to write someone a message, our brain automatically switches to processing the information associated with the interaction with the gadget. As a result, the processes in our brain associated with driving, to slow down significantly.
10) Start with yourself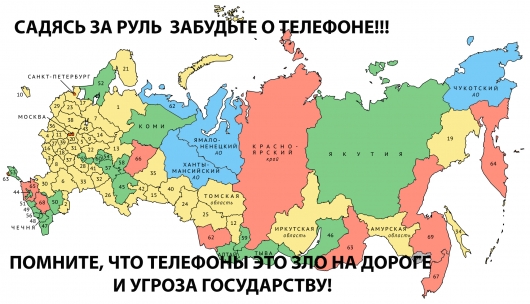 You are constantly criticized all around for traffic violations and other laws, believing that only you are the right driver in the world? Better throw away all his ambitions. We are all not without sin. Start improving the traffic situation with himself, completely abandoning the use of phone while driving. Yes, in order to reduce accidents on the road, we need comprehensive measures of the government. But do not forget that without our assistance the state can not cope with this.